In the Snowy Range of Wyoming
Photo by Joe Carducci
---
---
Elvis Presley up North
by David Lightbourne
Elvis made his Chicago debut on Thursday March 28 1957, kicking off a 10-date North American tour -- his first outside short runs down south.
The whole previous year I had witnessed a string of his national television triumphs, first curious, then with real interest, finally pure excitement. The exotic figure with the indelible name began appearing in mainstream print beyond monthly music pulps. Explosive 1956 - the one true "Year of Elvis" -- saw him move like a cat from the Dorsey Stage Show to Milton Berle to Steve Allen to powerful Ed Sullivan, the mere threat of an incendiary performance delivering ratings skyrockets.
"Hound Dog" confirmed everything. Elvis Presley ruled America.
Between trips from Memphis to New York and L.A. for the very lucrative television gigs, Elvis sandwiched short, regional southern tours, plus a bad week in stone-age Vegas. Press appearances found him declaring, assuring, pledging, that fame, celebrity, and northern acceptance would never compromise, corrupt, or turn him into anything but the modest, religious, good old boy his first audiences identified with, adored, and emulated. Meanwhile, his singles and albums would not stop selling.
To accommodate this astonishing arc of success, Chicago chose the huge, old, International Amphitheatre, the city's largest indoor venue, its strategic location the entrance to mammoth Union Stockyards, meat-slaughterer for the nation. Stone, steel, concrete, and brick, the cavernous innards usually saw all its action on its vast floor. Boat shows, fall model auto previews, similar trade conclaves, took dates with no cattle-congress scheduled. The Amphitheatre also hosted both parties' presidential nominating conventions regularly, right up to the 1968 Chicago "Police Riots."
The cops came out for Elvis in force, as did twelve thousand shrieking girls of all ages. From our folding metal seats, six rows back stage left, all the hall looked like a sea of young women. A high, box-like, unpainted temporary stage projected out from the wall at our end, maybe seven feet above the floor and fifteen-feet square. A cordon of police, arms locked, ringed the three exposed sides, hats well below stage level, with very little to worry about, on generous overtime.
As our family entourage of six waited for the hall to totally fill and house lights go down, I scanned the stage and had a true shock of recognition. The microphone stand at center stage, a pro Atlas with the large, heavy base, rose only chest-high, where a horizontal extension rod held, side by side, a pair of large microphones, one at each end on stubs, about four feet apart.
I knew those mikes well. Five years earlier an identical one had occupied the center of the table during our family's daily breakfast radio show. A prized possession actually resting in my socks drawer, those big Altec omni-directional ribbon mikes, the size of a small melon, weighed a ton and had unbelievable sensitivity at any gain at all. Elvis not only had the best, but with unbelievable style and total class, a freaking pair of Altecs where only one had ever gone before.
This unprecedented, downright radical arrangement made nothing but simply brilliant sense. During the entire second half of 1956, television camera had famously, notoriously, avoided any shots showing Elvis the Pelvis below the waist. The hyper-efficient Altecs guaranteed that Elvis would not move off-mike no matter what manner of extreme sports his performance explored. Wild hair on the tiny tube only went so far. Tonight the main man came on a mission to move, shake, rock, roll, wiggle, gyrate, cavort, and do the funky monkey, with every lateral lurch in perfect technical proximity.
Dimming house lights brought the loud, expectant crowd to a hush, followed by a tide of excited screaming as the show's master of ceremonies took the stage. Waiting for his disproportionate welcome to subside -- it did quickly -- he welcomed the throng, then introduced an unexpected surprise opening act, emphasizing that the unknown comic was a close personal friend of the King and Elvis wanted us to welcome him with open arms. The poor fellow needed more help than anyone's endorsement could possibly offer: semi-professional, if that, dressed for amateur night in a small Ozark bar, corny beyond all expectations, with even the lame slapstick failing him, he had enough sense to bail before the voluble crowd actually lost patience with this surreal blend of courage and suicide.
Elvis and the three Blue Moon Boys took the stage within the first minutes of a ten minute-long mass tonsillectomy, with bits of young tissue flying like projectiles. The collective power of that many young, healthy adolescent American lungs gained sufficient synergy to dislodge trachea and inflict permanent internal damage on every fourth female esophagus, merely temporary pathologies otherwise. My younger brother and I, now standing in his royal presence, tried our best to mount complimentary obligatory screams, but with instantly pathetic results, utterly insufficient in volume, hopelessly low-pitched.
Later accounts would record that this Chicago show saw the first appearance of the spectacular completely singular, all-gold suit, a tuxedo-length coat and matching trousers, yards of shining gold-lamé from über-tailor-to-showbiz, Nudie of Hollywood. The gold material, glittering brightly under the stage spots, gained almost blinding brilliance as every available flashbulb in Chicago detonated as one. A money shot for the ages, his Highness in the flesh, this stunning fashion-statement overdue acknowledgement -- also the penultimate touch for an immediately iconic, definitive portrait -- of dazzling superstardom.
The suit signaled unparalleled apotheosis; a private reminder of his childhood Hollywood dreams; and a butterfly-like transformation from his former attire and very appearance. Until Nudie concocted this statuesque, gold God, Elvis had improvised an inspired, idiosyncratic mix of country music, biker, and ghetto street threads, eclectic parts juxtaposed in a fertile, marvelously resonant personal style. All traces of this Elvis had vanished.
He looked cleaner. Hollywood had given him a makeup makeover, echoes of Little Richard mascara and androgynous eye-treatments banished. A California super-barber had sculpted a sleeker cut, streamlined by expert thinning, especially along the sides. The hair lay near the core of the E.P. mystique. Big magazine spreads found him in a local Memphis barber's chair, his hair so thick that, combed back in a ducktail, it formed rich, curving fenders above the ears. Formerly, when the pompadour flipped forward across his face, only both hands could collect it back up into place. No longer, and it made him look younger, fresher, and kind of perfect.
Indeed, Elvis looked great, in a clear line-of-sight just yards away: healthy, athletic -- maybe into touch football -- brimming with energy, eager to rock. Moving with easy confidence, with the surfeit of ego-magic crucial to managing and proceeding along this existential cusp, he started acknowledging widely scattered sections of the vast seating, causing full thirds of the place to go either nuclear, postal, or plain apeshit. Small females now began the sporadic business of hurling themselves at officers and stage, one girl managing to cling by her fingers seven feet up. The cops now got busy as this mandatory ritual accelerated. Emotional little girls, burning pure adrenaline, in a variety of delusional states, kept needing sorting out.
With Scotty, Bill, and D.J., wearing white shirts and blazers, well-settled behind their instruments, Elvis began his familiar initial, disingenuous gestures, shaking his head in wonder, appealing for a reduction of the bedlam to ordinary mass hysteria. He flashed his shy grin, a broad smile, hands up briefly now and then for quiet, his body language conveying only half-hearted impatience. His overall demeanor spoke a silent, genuinely deferential, expression of pure gratitude.
When, finally, Elvis spoke -- probably something like "Thank you very much," -- still further eruptions. Inevitably, the need to cling to every word gained a marginal edge over the cacophony of countless one-on-one intense personal conversations, oblivious in the urgency of opportunity. Sporadic meltdowns still sounded from far regions, according to some school of chaos theory -- suddenly joined by every throat when the gist of a brief remark sank in for everyone.
With his smallest gesture a pretext for whole cohorts to go bananas, Elvis began indulging along an irresistible detour, teasing these reactions, milking them, both with apparent good humor and an oddly amoral, gratuitous self-satisfaction. Nobody minded and nobody could get enough.
Elvis had enough first. Smoothly steering this stage business around a broad curve, he began the pitcher's windup and abrupt, bellow-like first links of "Heartbreak Hotel." The song, his first national hit, had given him real cred as a singer before most of America knew who he was, what he looked like -- or cared. A widespread belief that rock vocalists could never realize the professional skills of crooning ballad-singers took time to discredit. Naysayers, older music buffs confronted with this early Presley performance, grudgingly accepted the quality in his voice, usually weaseling-out with, "But I still don't like his movements."
Until its reprise in the lead-off slot, "Heartbreak Hotel" was all but ancient history, Plymouth Rock on the way to the Gold Rush. Only a year old, I remember feeling startled that night by its familiar quality. Elvis sang the lyric with real strength, power when required, with a richness in his voice a listener could not ignore. Probably the musical high-point of the night, I still wondered why he chose it to open with under these wild, Dionysian circumstances.
A recording of the 45-minute set -- sixteen songs according to the Tribune's next edition -- would reveal other moments when the music rose to the truly inspired. D.J. Fontana no doubt rocked out on drums; Bill Black's upright-bass playing had to have served Elvis well, and Scotty's Gibson electric -- the only amplified instrument on stage -- must have reflected confidence and license to play that record sales alone now granted him/them. Proud parents -- Scotty and Bill had invented this experimental sound for Elvis in 1953.
I only remember the medley-like blur of hits flying by -- each one forgettable as quickly as the next release took its place -- the set-list distinguished only by the introduction (in release Monday) of his next gold single (a million already pre-sold), "All Shook Up." An Otis Blackwell composition, feeling back to the R&B lexicon, "All Shook Up" noticeably rocked to a superior beat and Elvis danced his way through it. On first hearing, "I'm itching like a man on a fuzzy tree," the second line, sounded odd and gross. It sounded better later, without the bright lights and the all-gold victim of distress.
The descending pattern of fluff over the previous six months -- owing largely to Col. Parker's resentment of Elvis jamming with Leiber and Stoller -- almost defined the creative vacuum forever plaguing disposable music. "(Won't You Be My) Teddy Bear", "Wear My Ring (Around Your Neck)" and the like would soon portend even bleaker prospects for a man of such huge talent and unknown potential. I don't remember "Hound Dog" or "Don't Be Cruel" in any detail, but they were the ones I wanted to hear. Both could have gone far past the three-minute-plus template in a less stopwatch-driven situation. Songs like "Love Me Tender" gave Elvis a chance to catch his breath if, indeed, he ever needed to.
As for Scotty, Bill, and D.J., a decade later they'd stage a jam session with Elvis on his big 1968 NBC Come-Back Special trying to recapture the sound (already past) when Scotty and Bill taught Elvis his first guitar chords in Scotty's house. No sound since truly recaptured the low-rent grace and slap-back echo of the old Sun Studio, or their cobbled scrabble of country & western, country blues, rhythm & blues, and forties jazz. Already out of their Memphis depth here in Chicago, riding a rocket moving too fast to hold onto, the trio played with the Hillbilly Cat outside the studio for their final year. With Elvis Army-bound, by mid-1958 the three would all be on their own. For the moment, though, a key part in the sound of elemental rock and roll still held the stage.
They actually said it. A disembodied voice, in a tone of authority and knowledge heard through ranks of stranded fans suddenly left in the lurch, their eyes blinking under the now somehow brighter house lights, "Elvis has left the Building."
They believed it.
No need to storm the dressing room. No use setting fires to smoke him out. No hope he'll wander out the wrong door or get in a limo and have the engine stall. Elvis had left the building. We believed it if we believed he'd ever been in the building in the first place. Anticipation had consumed 95% of the experience, the 45 minutes of rock and roll all a blur. We alone seemed to avoid the stampede out of the building to the car lot. As I stood under the big work-lights surveying a now-empty battlefield, I understood in my still innocent but expanding grasp of affairs that Elvis was over. He was Elvis 2.0 now.
The next day my classmates barely shrugged when I confessed where I had been the night before. Mid-50s 8th graders lived in a pre-adolescent space far younger than epicenters of serious -- older -- Elvis freaks. But the Colonel, RCA, Hal Wallis, and the best industry hustlers with expense accounts would see to it that my classmates got their Elvis soon enough.
[Drawing of Elvis by James Fotopoulos; WTAQ advertisement for the Lightbourne family radio program, 1951-52; Painting by Travis]
---
---
Drawing by
James Fotopoulos
---
---
Breakdown Lowdown: Upland Breakdown 10
Saturday, August 22, 2009
Centennial, WY
by Joe Carducci
Made the mistake of trying to pull a special attraction out of a hat for our tenth annual. That delayed getting the line-up finalized but since everyone who plays the Breakdown wants to come back we got our trademark
non
-bluegrass
non
-jazz acoustic
blues
microfest booked in no time around David Lightbourne who has been the blues constant around whom all variants revolve all this breakdown decade. Face it, after ten years the Upland Breakdown is an institution, it's bulletproof, it's too big to fail!
Birgit Burke
was back a third time with a four piece she cobbled together from bits of folk and bluegr*ss combos around Laramie, including Ticia Shelton, Kelli Trujillo and Brian Eberhard. Birgit christened them Black Crow/White Crow and they were good so they will live on. Instruments: Vcl., Gtr., Vln., Mdn., Bs.
Al Rivers
returned from Eugene, Oregon for his second appearance. He played a great set of his smooth-rough suede-like blues, this time accompanied by Trip Henderson on harmonica. Trip flew in from New York and took to Wyoming mountain trails such that we were lucky he remembered his set times. Instruments: Vcl., Gtr., Hmca.
Michael Hurwitz
returned for his fifth appearance if memory serves. Michael lives in Alta Wyoming now and has to take the Idaho backdoor to get to his house up behind the Tetons. There's a j*zz balladeer inside Michael and that puts a nice smooth spin on he & his Aimless Drifters' prairie blues. Instruments: Vcl., Gtr., Pd. Stl., Bs.
David Lightbourne drew the focus down from his Buckhorn Sunday Nights repertoire to late twenties/early thirties blues and ballads and an original after-the-style.
Trip
found work here too and they put on a clinic. I normally see Dave and Trip work their magic in Jane's apartment in NYC; good to see Trip out here where things're happening. Birgit returned to harmonize on her and Dave's Sunday standard "Hello Stranger" by the Carter Family. Instruments: Vcl., Gtr., Jzhrn., Hmca.
Spot
returned for his seventh time and his blues gumbo seems to have fully dissolved the formerly discrete Celtic chunks within it. He began with some astounding instrumentals where you swear he's splitting the atom with a flat pick, and then he switched to banjo to deal with the fallout. Instruments: Vcl., Gtr., Bjo.
Hurwitz & co. quickly drifted across the highway to the Trading Post for a late night set, and when I left there I heard Lightbourne, Rivers, Trip and friends working through tunes over on the Mountain View porch. The tequila looked like a bad idea, and this surmise was confirmed a couple hours later when the telephone woke me up and I had to drive to Laramie to get Dave home and away from a friendly teenage-looking Sheriff's deputy. He ran both our licenses through headquarters, so evidently skynet was down and he let us go. Finally, the Buckhorn Sunday night was a loose last runthrough of more of the American songbook with Dave, Birgit, Al, Trip, and Spot. And then things calmed back down to the rhythm of late summer in the mountains.
Thanks go to Jill and her staff at the Beartree (love the new stage), Justin Cooper, Grady Kirkpatrick and Tom Wilhelm at KUWR, Mike Vann Gray at Snowy Range Graphics, Mike Safran, and Jane Schuman. The Boomerang took the year off, well-deserved no doubt.
[Illustrations by Maya Carducci]
---
---
The FYF Fest
Saturday, September 5, 2009
Los Angeles, CA
by Chris Collins
The New Vulgate has gone green. In the effort to conserve precious blog space, this concert review will be presented in the form of raw, handwritten notes composed mostly at the event itself. We trust that they are only indecipherable to the degree that the day itself was. Photographic documentation is included as well, all by your intrepid reporter, all in antiquated black and white.
Not only do we bring you superior cultural commentary, your editors are committed to "showing you the gears." The New Vulgate cares about our environment. The New Vulgate cares about you. Follow us. Trust us.
---
The Program
---
Notes Page 1
Notes Page 2
---
Darker My Love: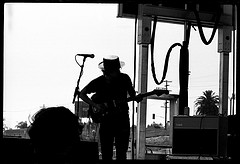 Lightning Bolt:
The Crowd:
Greg Ginn and SST update
---
---
To receive a weekly update notice for the NV, send an email to newvulgate[at]sbcglobal.net with SUBSCRIBE in the subject line. To stop receiving notices, do the same with the word UNSUBSCRIBE.• The New Vulgate• Joe Carducci, Chris Collins, James Fotopoulos, Mike Vann Gray, David Lightbourne
• Copyright retained by the writer, artist, or photographer