Zócalo, Centro Historico, Ciudad Mexico, DF
Photo by
Bart Bull
---
---
Drawing by
James Fotopoulos
---
---
From the desk of Joe Carducci…
Why you very well may not be about to have a slice or two of mince pie
, on Christmas or this very morn. Cliff Doerksen writes in the
Chicago Reader
, "The mince pie we speak of here bears only passing resemblance to present-day mincemeat pie, that gooey vegetarian article…. The mincemeat savored by our forebears was made with actual meat (beef, typically, or sometimes venison), flavored with substantial quantities of booze (usually brandy but sometimes rum and/or Madeira)." Recipes included.
***
Joseph Frank's massive five-volume study of Dostoevsky gets boiled down to
one 1000 page volume
. This won't be assigned reading on campuses either I bet, but I'll get to it someday. Dostoevsky was the one writer where I made an attempt to read everything he wrote. I stopped at his last novel,
The Brothers Karamazov
, figuring to save one for later.
The Idiot
is the most enjoyable; everything else was merely riveting. Aldous Huxley wrote interesting novels-of-ideas but most of them fail on the human content a novelist should emphasize and extrapolate from any larger ideas. Dostoevsky did all that and apparently that is Frank's emphasis, rather than mere biographical continuity of his biological life.
***
Louis Menand on
Michael Scammell's biography of Arthur Koestler
. Excerpt from his generally positive review:
"When Koestler's wife campaigned for his release, she had both to conceal his Party affiliation and, at the same time, to fight against the Party's own preference, which was that Koestler be kept in prison as long as possible, or even executed by Franco, as a martyr to the anti-Fascist cause. Thus the somewhat incredible consequence: a novel about a Communist prison that was inspired by an experience in a Fascist prison and written by a man being held, as a suspected Communist, in a French internment camp."
Or maybe not so incredible at all.
***
Nick Cohen on the

BBC

's Islamophobic sense of drama.
You read these Eurosubmission narratives and it puts one in mind of an elite that uses a class-based psychological cutout to seek jollies by exposing its lessers to the full antediluvian madness of Islam. A seeming self-mortification turned outward-and-down against class-enemies, certain its class-prerogatives will save it, and that its skills will be required by these next tyrants. They hope to be as the Chinese Vizier Chu-Tsai was to the Mongol Khan -- thrilling to the destruction of all that was once in his way as a frustrated Chinese intellectual. Or perhaps they believe they can flee the theo-cultural Thermidor in time and gather in the Bahamas, or Falklands, or Iceland.
Shannen Rossmiller briefing summary by Aymenn Jawad Al-Tamimi
regarding the mysteries of p.c. in the U.S. military and what use the Jihadi makes of them. And here's the
Investor's Business Daily
's
characteristically hardest hitting take
on developments.
***
The President's mom's
doctoral dissertation
is to be published soon, and it will be interesting to gauge her real interest in development from her study of blacksmithing in provincial Jakarta.
***
The main part of
this
is interesting and hopeful on the evolution of Russia out from under the FSB-KGB's training wheels to put a gloss on it, but the sidebar story on the Orthodox Church is more interesting.
***
As Hugo Chavez and his cronies halt investment and liquidate economic infrastructure to buy political power in the region, he's tempted now to throw his poor poor constituency into the front lines of the
first war of the new decade
to keep them from changing their mind about him. That may stir their desire to make further sacrifices. As they say,
socialismo o muerte.
***
Greece is a mess
. The
IBD
editors write, "One in four Greeks is employed by the state, and… 10% of the work force are unemployed. Salaries and prices are as high as Germany's, but productivity is not."
The
FT
boils it to a headline:
Papandreou says Greece is corrupt.
As Lightbourne would say, "You're f'in' kidding me!" or maybe if he's really feeling it, "You're freakin' fuckin' kiddin' me!"
***
The

WSJ

Decade-Past Wheel of Fortune graphic.
***
Thomas Frank isn't the first fanzine type to get into the
Wall Street Journal
.
Ann Marlowe
has been writing about Afghanistan on the editorial pages periodically for years.* She published a fanzine called
Pretty Decorating
in NYC in the nineties. Here's
her latest piece
in Monday's
WSJ
. It echoes the struggles within the military which finally occurred late in the Vietnam war and which did work, though the powers that were preferred to lose then. They'll decide it this time too.
[ * Byron Coley writes in: "re: yr note on fanzine puds in the wsj. john buckley (of ny rocker) was the first "rock crit" at the wsj back in the early '80s. he was an old pal of lili & mine from hampshire college and was the first american i knew who was a rabid fan of radio birdman. he later became robert dole's press secretary, but that's his own cross to bear."]
Here's a
diagram of Afghanistan
that explains all about something or other.
***
China expects
good things from warming
and not just by selling us giant wind turbines.
The Thanks we get.
The German Marshall Fund began as a thank-you to America for the postwar Marshall Plan. Like all such funds they are taken over by a discrete class of do-gooders -- one part teacher's pet, one part know-it-all, one part Moe Howard. Here's the German Marshall Fund's take on the principle of unanimity and other political circuit-breakers getting in the way of the wondrous plans the planners are planning for us all. The Chinese are taking another one for the world economy.
***
First second thoughts on nuclear energy, then hydropower, then windpower, and geothermal, now ecologists vs. solar.
***
Israeli organ harvest
.
Not good for the Jews to say the least, but I'd rather stress the more universal danger of organ-harvesting that all these materialists who are so into Darwin and science that they seem loathe to recognize anything like a moral hazard even one written as "moral" hazard. The
WSJ
early this passing decade published a portrait of the PRC's use of executed prisoners to harvest skin for burn-victims -- this darkened even further as the reporter (Ian Johnson, I think) recounted how it went down for one not-even-a-criminal whose execution did not quite kill him. Then turn to our brave new social engineers as they make a federal case out of health-care. Are bureaucrats to accept the waste of all those corneas and organs and all those yards of human skin being buried to rot?
***
The biography of the original American China-hand, Jack Service, is
reviewed in the

WSJ
by Jonathan Mirsky who interviewed Service late in his life and was told, "I was gullible, and trusting, and foolish…. I wanted them to win. I thought they were better than the Nationalists and that if we always opposed them we would have no access to the next Chinese government." Forgive them Richard M. Nixon for they knew not what they done.
***
John Kass in the

Trib
for those keeping score on city haul.
***
The Sunday
Sun-Times
--
Dave Hoekstra
on Michael Abramson's book of photographs chronicling southside blues clubs in the seventies.
The 12x12" book comes with a double LP
approximating the jukebox mix at Pepper's Hideout. The story features a short photo gallery (he shot the audience, not the blues players) and a sidebar on Pervis Staples' club. From
Peter Margasak's

Reader

review
:
"The vinyl-only set collects 18 jams, designed to replicate the range of selections that might've been on a jukebox in one of these bars at the time—a representation of the blues sound away from the north side clubs (which catered to white crowds, a sound at the crossroads between old blues tropes and forms with inescapable funk grooves and deep soul grit. This is stuff that was generally well outside the reach of labels like Chess or Delmark—most of it was released by tiny independents that rarely lasted for more than a few records. Some of the artists are familiar—Little Mack Simmons, Bobby Rush, Artie "Blues Boy" White, and Detroit Jr. among them—but nearly all the rest were new to me. The LPs come with superb liner notes, as usual."
Here's the
Tribune
's media columnist's detective work regarding a
Sun-Times

photo archive sale
.
Nobody cares what these folks (Randy Michaels, Lee Abrams…) did to radio, or music, but man that
rubber penis story
set wheels in motion.
Krauthammer's column
is 25 years old and he recounts being asked by an intern at the
New Republic
how to become a nationally syndicated columnist, to which he answered, "Well first you go to medical school."
NYT

vs

WSJ

w/

WP

piling on.
***
Here's an interesting Letter to the editor from Sunday's
NYT
regarding
Kraftwerk's party line on their remastered albums
.
***
Punk poster counterfeiting; everyone's problem.
***
"Wild Thing," Yonkers, Jon Voight, the Mafia, and Chip Taylor.
***
Pistons' point guard Detroit Mayor Dave Bing on
the municipal government's consumption of the city itself
:
"We've been paralyzed by a culture in the city of Detroit, and maybe the state of Michigan, of entitlement… Our people, I don't believe, truly understand how dire the situation is. There are ugly decisions that need to be made and I'm surely not going to be popular for making them. But I didn't take this job based on popularity… I can give you a data sheet that will show you we've got several of those bargaining units with less than 100 people, and each one of them has a president that's paid by the city to negotiate against the city. Coming from the private sector, I find that insane… Today in the city of Detroit our union employee benefits cost 68% of what their base wage is. I don't think that happens in any other place in the country. When you look at one of the most dominant labor unions in the world, the UAW, they're nowhere close to what we give our city workers."
***
December 9, 2009, United Center, Chicago, Illinois
Photo by Joe Carducci
---
Turning to Ice Hockey -- Old-time hockey, the Europeanized hockey played today with high-sticks and helmets, and a peek at 19th Century hockey courtesy of Thomas Edison.
Hockey Match on the Ice
(1898, directed by William Heise; Edison Manufacturing Company)
Chris Chelios
at 47 playing for the Chicago Wolves of the American Hockey League. Five more years and he ties Gordie Howe for professional longevity.
The late Blackhawk left-winger Reggie Fleming's condition prompts
this

NYT

story
.
NYT:
"The N.H.L. and the N.H.L. Players Association jointly administer the league's protocol for players returning from concussions, which has been in place since 1997-98. The program was the first in pro sports to mandate independent baseline and postconcussion neuropsychological testing, as well as clearance from independent doctors before a player can return to game action. A similar protocol was adopted by the N.F.L. only last month."
The
NYT
story includes a link to interviews Fleming's son did with him shortly before his death.
This footage
is apparently the minor league Chicago Shamrocks on the ice of the Chicago Coliseum in 1931-32 before they were disbanded as part of a deal that saw the Shamrocks owner James Norris take over the NHL Detroit franchise, the Falcons, and disband the Shamrocks of the AHA, something the Blackhawks were demanding. Norris reportedly took his best players with him to Detroit and renamed that team the Redwings.
1930 World Championship in Chamonix
The Blackhawks are quite good now in a very un-Blackhawks-like way. They probably have a couple Cups in them over the next few years. Here's a good bit about their last one, before my memory:
Stanley Cup 1961, WTTW
This is within my memory:
Hawks/Habs 1971 Game 7, Cup Final
. We saw these home games on closed-circuit projection television at a movie theater in Berwyn. They had the Cup won so they lost it. And then lost it again a couple years later.
More Bobby and Reg, now in the WHA,
Jets vs Cougars, Bobby vs Reg, Dec. 22, 1972.
Chicago Blackhawks Ice Crew
. Say good-bye to old-time hockey what with the masks, the helmets, expansion, the Europeans, Disney, the Cheerleaders, the two-line pass, the shoot-outs.  But, hey,
every video camera in the place is on them
, and everyone in town is glad Rocky Wirtz replaced his old-time father Bill and old-school grandfather Arthur as owner.  Rocky's busy rebuilding all the bridges his dad gleefully burnt down.  But Bill did his best work by not doing anything to the Stadium until he damn well had to.  He is why we remember the old Stadium scoreboard, the
pipe-organ
, Ben Bentley on the PA system, Lloyd Pettit on the play-by-play…  a lot of good stuff that ended in the other Original Six towns decades earlier, and never was in the rest of the league.  I went to a couple games last week with family and got a look at the new place and one's first question is when you had the perfect building to model off of how could you blow it so bad? The food is better of course, not hard to top the old crap they served, but both times we stopped after the game at Johnnie's Italian Beef in Elmwood Park.  My brothers and dad are or were doctors and they found this Organ transplant truck parked out front of the place very funny.  That it's right at the fire hydrant is perfect as well.
[Photo by Mark Carducci]
CCCP vs. KAHADA 1963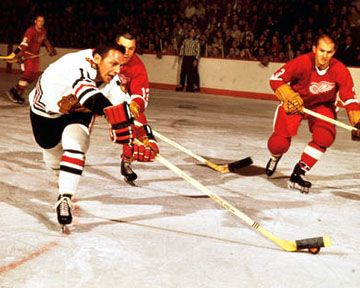 [Dennis Hull, photo by Harold Barkley]
Hockey's Golden Era - Stars of the Original Six
, by Mike Leonetti, photos by Harold Barkley
Arab Cup 2008
Zamboni fire!
WSJ

crunches the numbers
on tie games and the shoot-out strategy in today's NHL.
This just in
on the 30th anniversary of the brawl in the stands at MSG, Bruins vs Rangers in the Wednesday
NYT
. The NHL expanded to ward off WHA competition and the original six were beginning to lose their mojo to the most innovative of the expansion teams, first the Philadelphia Flyers on something like the sixes own terms, but then the New York Islanders, and the Edmonton Oilers racked up Cup wins for over a decade with teams full of highly skilled European skaters and stickhandlers, until Montreal and then Detroit regained parity with yet more competitive expansion franchises, some of which had also been moved once or twice around North America: Calgary Flames, Pittsburgh Penguins, New Jersey Devils, Dallas Stars, Tampa Bay Lightning, Colorado Avalanche. The Wirtzes had fatefully bracketed Chicago into the newly created Western division with five of the new teams which were initially uncompetitive so the Blackhawks feasted in the regular season and but lost their edge for the postseason. But the brawl story has a good youtube link and it's a sight. The
NYT
piece is well reported but only on the Bruins and Ranger fans sides; it sheds no light on why not a single Ranger player went over the boards to defend their own fans. New York City pre-9-11 I guess. Supermodel Carol Alt, ex-wife of defenseman Ron Greshner and girlfriend of former Islander center Alexei Yashin, is quoted from St. Petersburg Russia, "Players with padding are like mammoths in the stands running over unarmed, shoeless, domestic house pets." She should be writing for the
New Vulgate
. Anyway now the Blackhawks are competitive on the new Hockey terms, that leaves the Toronto Mapleleafs as the last idiosyncratic basketcase of the original six, though some Ranger fans might file them there as well.
[Top-right photo: Goalie Clint Benedict, Montreal Maroons, 1930]
***
(thanks to Bart Bull, and Steve Beeho)
---
---
---
To receive a weekly update notice for the NV, send an email to newvulgate[at]sbcglobal.net with SUBSCRIBE in the subject line. To stop receiving notices, do the same with the word UNSUBSCRIBE.• The New Vulgate• Joe Carducci, Chris Collins, James Fotopoulos, Mike Vann Gray, David Lightbourne
• Copyright retained by the writer, artist, or photographer