Quarry Pond, Naperville, Illinois
Photo by Joe Carducci
---
---
Bring Me the Head of Lee Abrams
by Joe Carducci
---
A few weeks ago
Rebecca Mead
wrote a
New Yorker
'Talk of the Town' bit about The Stooges where she got Iggy to explain how such modern classics as "Fun House" (1970) and "Raw Power" (1973) could have failed so completely in their days:
"It's like this: I made some fucking great-sounding music that still sounds fucking great, and—to drop my intellect and just get emotional about it—a bunch of fat fucks and pricks wouldn't play my music anywhere where anybody could hear it, wouldn't sell it in a part of the store where it could be bought."
I like to think that Iggy's "fat fucks" were led by Lee Abrams. (He doesn't mention the press but I'll add that I enjoy guessing that Jan Wenner is bringing up the rear in his parade of "pricks".)
In truth, Abrams was merely beginning in 1970, joining Kent Burkhart who was an AM power having been doing that since the mid-50s as an architect of the post-rock and roll Top 40 format, and leveraging that mature consulting business into the booming, still freeform FM landscape. (FM was only just standard radio equipment in the late sixties after station-owners were forced to stop merely simulcasting on their FM sides.) But the radio nerd stumbled into perhaps THE hippie-era goldmine. The singles market was giving ground to the album market; singles became a way to sell the more expensive albums. And with FM radio in its early years one might not need an actual hit to sell albums; record stores once stocked pop music by chart position only, except for soundtracks, show tunes, and classical records, now the hippies opening record stores were at first stocking records on some kind of cultural merit of all things. But radio station owners were generally straight older folks, conservative-modernist-entrepreneurs, and if they had to program for this wilder and wilder rock culture of the early seventies, they preferred to not need some troublesome company freak on the premises to do the programming. Having programming decisions phoned in was no-muss no-fuss, and soon no-rock and roll a'tall.
Burkhart-Abrams by the end of the seventies told a thousand radios stations what to play. The older AM side of their business did not manage by itself to destroy the Top 40 format. But as older listeners moved to FM, AM radio was left to kids and soon they no longer heard the likes of Jimi Hendrix Experience, Blue Cheer, or Bubble Puppy. Oddly, the freer FM band was easy for Abrams to destroy. As they'd abandoned AM for FM, the hipper ears could leave FM for the new 8-track and audiocassette formats in the car, while at home playing LPs in a stack could give you music by the hour unplugged from any radio culture. By my ear, FM and AM music radio was slowly strangled until by the end of 1973 one just stopped listening.
Wired
magazine had Abrams "winning 318 programming battles, while losing only 11." Perhaps there really were eleven good rock stations by the end of the seventies; it didn't seem like it. "'It's really a war,' Abrams says. 'We're out to bring music back to the people. We have this one opportunity to revolutionize radio, and if we blow it we should all be shot.' But isn't this the guy who blew it the last time?…" (Oct. 2004,
Wired
)
The Punk era culture began there then, with that 1973 death of music radio, but I believe the era itself was also an organic creation of that earlier living radio culture. As Iggy explained later about The Stooges' "Raw Power" album, "A year after I made it, that album was selling for 39 cents, and then two years after that, it was selling for about $39." (Mar. 15, 1987,
Chicago Sun-Times
) It was as if broke kids haunting used record stores all bought that album in cut-out in 1974-75, then after their own bands hit vinyl with their self-released 45s, or Sire LPs, the album's price got bid up as an import. "Raw Power" was the initial template for punk rock before the Ramones' debut.
By then the Abrams's chokehold on airplay oxygen was destroying both music radio and the music itself. It needs remembering that the major labels at first did fine in terms of signing most of the more distinctive punk era bands (Patti Smith on Arista; The Dictators on Epic; The Ramones on Sire; Television on Elektra; Pere Ubu on Mercury; The Dickies on A&M…). When you see early photographs and videotape of seventies punk there are the requisite fashion plates with spiked and dyed hair, but there are more bearded hippies and long-haired girls attending than is remembered. There were still music people in the record industry; there weren't any in the radio business. And soon the larger historied independent labels (A&M, Motown, Chrysalis…) were forced to leave for major distribution to maintain promotional clout as the Abrams centralizing effect played out through the greater industry.
Radio didn't air the music so the first punk albums failed to sell and further adventurous signings ceased. SST released the equivalent of six or seven albums by Hüsker Dü or the Meat Puppets before they were signed by major labels; that's insane. How many bands even last that long? Midway through their SST careers the bands managed to get the ears of some of the erstwhile music press and that got us requests for their albums from the major labels. They claimed to dig the bands but as realistic, responsible A&R men, they knew they had to listen with Lee Abrams' ears and those were simply deaf to the era. Black Flag didn't want to run a record label, they wanted to sign to a major label in 1978! The New York offices signed most of the first punk bands but the LA offices knew the LA bands from that one non-Abrams station, KROQ, and from local press and the early doc,
The Decline of Western Civilization
(1980). The LA majors also saw that by 1981 The Germs, X, Black Flag, The Adolescents, and others were selling enough records in the greater SoCal market that if you extrapolated out to the rest of the country they'd be going gold on their debut releases! But the major labels also knew that Lee Abrams was there to stop that all from being conceivable.
Abrams was quite clear about the destruction he'd accomplished by 1980. He's apparently appeared on several Alan Parsons' albums, the nadir of engineered musique concrte that these numbers guys created while tripping on drugs left behind by musicians -- it was pod music for pod people, "lifestylers" in the parlance of SST, the perfect wallpaper for the leather couch. Failing to reach Art, the engineers reached only design. Any doubts Lee might've had about shit-canning an entire next generation of rock bands were certainly relieved by every new issue of
Rolling Stone
magazine in those years (1975 - 1991). Unlike Lee, Jan hasn't come clean, though he is at least out-of-the-closet now, which probably calls for a revisionist book about the magazine and its effect, updating the Robert Sam Anson and Robert Draper books, neither of which really put the musical wood to Mr. Straight Arrow. And its what happened to music that matters.
Rolling Stone
followed up on later New Journalism through the seventies but it gave up on music.
As Abrams joined XM satellite radio in 2004 he was happy to acknowledge his crimes in the next context of all the miracles of Art he expected to achieve at XM. Unfortunately the hundreds of channels available allowed him just to subdivide the music further. The bastard-child rock and roll that he initially found as a kid on sixties radio humoring R&B, garage rock, C&W, surf, rod, bluebeat, Sinatra, jug band, blues, acid rock, movie themes, folk, et. al., was dissected, drawn-and-quartered, pulled-apart racially, sonically, stylistically, classwise and other ways and then these have been further subdivided at XM and its former competitor Sirius and then beamed down from satellite with the destructive force of those SDI directed energy weapons, only those were theoretical. Good thinking Mr Laser Beam!
Had anyone wanted to make radio a contributor to our music culture once more instead of its tormentor it's easy enough to locate viable programming mix models from late sixties AM radio, or pre-Abrams early seventies FM radio -- the air checks are available even if the old radio station freaks' memories are shot. All those winners of the AOR game might have bought a station as C&W stars once did and put its programming philosophy together with a musician's sense rather than the gonadal drive of coked-out fanboys.
However, the radio business is about advertising, it isn't about music, and the change in music could be noticed in the eighties and it was real. If you ask me anyone starting a band after 1980 was handicapped by the lack of an immersive exposure to great music by good radio stations. Mediated America no longer allowed provincial folk cultures to develop deeply on the highly refined level they once achieved in Appalachia, Louisiana, the Mississippi Delta, the Piedmont, the border…, so this new airborne folk media was what we had to make do with after WWII. It was quite productive for awhile and great folk media synthesizers like Eddie Cochran, Dick Dale, Steppenwolf, Jimi Hendrix, The Doors, James Blood Ulmer…, made contributions as brilliant and nearly as organic as earlier, more rooted, less mediated folk synthesizers like Hank Williams, Muddy Waters, Bill Haley, Elvis Presley, Chuck Berry…. But it was less sturdy and thereafter, if young kids got turned on to music in junior high and form a band by the end of high school, then the end of great music radio in the early seventies resulted in the end of great bands in the early eighties. The good bands thereafter, even if inspired by their immediate predecessors became more directly derivative, more conceptual and thinner in achievement. (I'm thinking of bands like Social Distortion, Dream Syndicate, The Pixies, Eleventh Dream Day…, vs. those formed earlier such as The Germs, The Sleepers, The Wipers, Black Flag, The Minutemen…) These unsigned and unheard casualties are better known today than they were in their day, and this too is culture damage charged to Lee Abrams, even though no small label releasing such records ever mailed him a copy.
By the late 1980s the slight demographic wind at their back and the slow advance of the new independent label economy through college radio stations, a smaller club circuit, and a new generation of music writer and editor yielded what passed for a watershed radio event where AOR and CHR (FM's Top 20 format) stations were suddenly forced to play what to them sounded absolutely foreign, Nirvana's breakthrough single. But by then the music culture of America was dumbed down to the level rather of a media culture; meaning Grunge was as the Twist and it evaporated. Our music culture's been broken down further of course since then.
So given all this, and the fact that I much prefer to listen to the radio than my record collection, I was interested when the new owner of the Tribune Company, Sam Zell, hired Randy Michaels and Lee Abrams to bring some new thinking from radio to the threatened newspaper business. Zell, a real estate mogul, had owned the Jacor radio chain where he met Michaels (Jacor was the last big competitor chain before Clear Channel bought it and began choking to death). The Trib was our morning paper growing up and I knew of Colonel McCormick from family visits to his former estate Cantigny, named for the town he took part in capturing from the Germans in WWI and earned his Colonelship. By the time I was reading the
Tribune
it was committed to living down the Colonel's legacy and playing catch-up to the New York Times and Washington Post by going after Nixon. It was also rejecting more than just McCormick's small government isolationism, it was joining the American newspaper zeitgeist that Mike Wolff in his semi-admiring portrait of Rupert Murdoch called turning "orderly and genteel." (The Man Who Owns the News). The Colonel had died in 1955; that was the year Richard J. Daley became mayor. It's likely that Daley's performance in 1968 was more on their minds at the
Tribune
. What's true is that Daley was considered vulnerable before the 68 Convention but Chicagoans were never going to turn on him after it. But the
Tribune
was now a reflection of no one person. The Irish in the boardroom were no longer fighters.
The
Chicago Tribune
was founded by Joseph Medill, McCormick's grandfather. It was a leader in the industry as both a business, and as cultural organ. And McCormick was involved in everything from setting up the "Gasoline Alley" comic-strip to purchasing land, power and machinery to produce pulp for newsprint in Canada. McCormick and his papers (also the
NY Daily News
,
Washington Times-Herald
) walked point in the losing causes that the Tea Party have recently taken up, smaller government, no overseas military involvement (at least in Europe). But he should also be better remembered by the newspaper business. Everyone knew who owned the
Chicago Tribune
in his day. And I don't think he'd have had the paper owning newspapers coast-to-coast and then let Gannett found the
USA Today
, or owning the better part of a national TV network and then let Murdoch found the Fox network. The
Tribune
might have kept Murdoch, Gannett and the
WSJ
in their boxes by getting their first if they hadn't bought into the conventional wisdom about their own history. But they learned that conventional wisdom in j-school, perhaps even the Medill School of Journalism at Northwestern -- destruction by duly degreed apparats everywhere you look.
Zell had taken the Tribune Co. private which was probably the thing to do as Wall Street considers news papering a sunset industry and so valuations were down. And that was at the peak of the real estate bubble, so now the resulting bankruptcy agreement is at risk which puts the deal itself in jeopardy. Today's old guard at the
Tribune
or in the Chicago media are full of bile for these radio sleazebags that Zell brought in, but they have no answers as the ships go down. They believe they love Chicago and its lore, they think they know about the old Front Page culture, the circulation wars, the press barons… But their pseudo-appreciation for all that life back then is a Butterfly collector's appreciation of death. Back in 1983 when Ted Field forced his family (Marshall Field & Co.) to sell the
Sun-Times
so he could go into the destroyed record business (Interscope) with his wallet blazing, it was Rupert Murdoch who bought it and Mike Royko and others whose whole newspapering lives were set against the
Tribune
resigned and walked across the street and into the Tower the Colonel built. Royko even gave up the White Sox for the Cubs if you can believe that. But Murdoch failed at the Sun-Times, the Midwestern tabloid sensibility is/was not the London or Sydney or New York one, and he sold it to some local group and it's been resold and survives readably. However, the local attitude, Royko's included, won-the-day then as their predecessors won it against the Colonel.
Last week after the
radio boys etiquette
hit the
NYT
's front page the new "genteel" j-school suburban bourgie ethos won out over smoking cigars and swearing and sexism and other juvenilia come over from radio minus the rock and roll charm. Combined with this local faux-Chicagological attitude this won out against
Chief Innovations Officer Lee Abrams
, and this week they won again over
Chief Executive Officer Randy Michaels
, and soon maybe Sam Zell. And then what? The Colonel and Joe Patterson and Frank Carson and Walter Howey and Charles MacArthur and Hilding Johnson and Jake Lingle and the boys down below all want to know. I want to know and maybe Iggy does too.
Ten years ago Daley's wife in her drive to beautify the city had the newsstands of the city tore down and hauled away, including the world class shed in front of the old Central Library which some guy who believed in papers had just bought for a hundred grand from some guy who remembered when there were a dozen Chicago dailies and you couldn't tell the reporters from the criminals from the policemen from the politicians. There weren't enough parks on the lakefront for Daley himself so he tore up Meigs Field in the middle of the night, probably non-union guys. Now the city's safe for Lollapalooza no less.
***
postscript
Lee Abrams correcting as many beside-the-points he can think of at
huffingtonpost.com
.
---
---
Burbank and the East San Fernando Valley, from Cahuenga Peak
Photo by
Chris Collins
---
---
Parus Caeruleus
, by
James Fotopoulos
---
---
From the Kroehler Desk of Joe Carducci…
John Kass in the
CT
,
"Fast Eddie?"
"The thing to remember about Vrdolyak -- once prince of the city and master of the Chicago Way of politics -- is that yes, he's a grandfather and loves his family, but wolves also love their packs. In sentencing Vrdolyak to 10 months in federal prison for his role in a $1.5 million real estate kickback scheme, Judge Kennelly said there were 'two sides' to Fast Eddie. 'Mr. Vrdolyak has acted in a venal way, an unethical way, and he has acted as a criminal,' said Kennelly. 'But he's also gone above and beyond to help people who needed his help.'


The people who wrote the judge for mercy included clergy, former cops, housewives and neighborhood folks with stories about the help he gave them. But there were others who weren't mentioned, guys with names like Crazy Joe and The Ox, the Hawk and the boys from Cicero. One of Vrdolyak's friends who couldn't make it as a character witness is former Chicago police Chief of Detectives William Hanhardt, currently in federal prison for running an Outfit-sanctioned jewelry heist crew. Hanhardt was the Outfit's top cop and de facto boss of the Chicago police when Fast Eddie was the de facto mayor years ago."


Carol Marin in the
CS-T
,
"Justice finally catches up to 'Fast Eddie'"
.
"I couldn't stay away. Neither could dozens of my news colleagues. The resentencing of one of Chicago's legendary political wheeler-dealers filled a courtroom on the 21st floor of the Dirksen Federal Building on Friday. At issue: Would Edward 'Fast Eddie' Vrdolyak finally see the inside of a prison cell?

…I expected on Friday to see Betty Loren Maltese in the courtroom, but she didn't come. She, after all, hired Vrdolyak in the late '90s to help her run the town of Cicero when she was the president. Whatever his advice was, it sure didn't keep her out of the federal slammer. She did 6½ years of hard time in a rock pile of a prison in California while Vrdolyak went on to make many more millions."
***
Matt Ridley in the
WSJ
,
"Triumph of The Idea Smugglers"
.
"As so often in human history, the merchants who made the prosperity that paid for science were being crushed by the chiefs, priests and thieves who lived off it. Empires, built on trade, were killing trade. It is no accident that Fibonacci came from a free city-state run by merchants, Pisa, and lived in another, Bugia. Free city-states have been the laboratories of knowledge creation for thousands of years -- Tyre and Athens, for example….

As the philosopher David Hume was the first to observe, China suffers from a geographic disadvantage in this respect: It is too easy to unify. When disunited it grows rich and innovative. But time and again emperors, from the Ming to the Maoist, have been able to establish tyrannical centralized rule and shut down trade, diversity and experiment.

Europe, with its centrifugal rivers, its peninsulas and mountain ranges, is very hard to unify by conquest. Ask Constantine, Charles V, Napoleon and Hitler. So European states could harbor commercial, intellectual and religious refugees from each other, keeping flames alive."
***
Patricia Cohen in the
NYT
,
'Culture of Poverty,' Once an Academic Slur, Makes a Comeback
.
***
James Buchan in
The Guardian
on Peter Watson's book,
The German Genius: Europe's Third Renaissance, the Second Scientific Revolution and the Twentieth Century
.
"So, is there a German genius? Of course there is. Even Borges never suggested that Goethe's Die Leiden des jungen Werthers could have been written in Spanish, or Einstein's 'Zur Elektrodynamik bewegter Körper' in English. Of all the answers assembled by Watson, the clearest comes from the American philosopher John Dewey in 1915, who summed up German civilisation as a 'self-conscious idealism with unsurpassed technical efficiency and organization'. By idealism, he meant a belief that behind appearances or phenomena is some super-reality, sometimes called Geist, sometimes called Wille, sometimes even Musik. Whatever it is called, it speaks accurate German. The efficiency is for all to see. When I lived in West Germany, the Bundeswehr or federal army used to pretend to be a slovenly rabble, but nobody was taken in. When the Greens came into parliament in 1983, their wild costumes and warring ideologies could not disguise the most punctilious office habits. As for German self-consciousness, a British brigadier in Bielefeld once put it to me, in his staff-college drawl: 'Vey do make wather a meal of being German, don't vey?'"
***
Matthew Kaminski in the
WSJ
on Timothy Snyder's book,
Bloodlands: Europe Between Hitler and Stalin
.
"Both Hitler and Stalin dreamed of a new European order, one in the name of a master race, the other of a master class. Their visions met in the borderlands. In his use of political mass murder to achieve it, Stalin was the trailblazer, an elder statesman of terror. The Soviet-made famine of 1932-33, which killed more than three million Ukrainians, launched an era of horror that ended only with the end of the war.

Among his other goals in

Bloodlands

, Mr. Snyder attempts to put the Holocaust in context—to restore it, in a sense, to the history of the wider European conflict."
***
Stephan Wackwitz at
signandsight.com
,
"Save Benjamin from his fans!"
"The paradoxical entanglement of poetic consecration and scientific standards was however, prepared above all by Benjamin himself. He pursued the project of a sort of concretising theory. He believed that by describing a type of theatre, or novel, or form of architecture in as precise terms as possible, these things would be brought to life in 'profane illumination' and spawn a theory of their own. Benjamin, you could say, misinterpreted a Romantic poet's dream ('And the world wakes up and sings, / If only you find the magic word') as research programme. With Joseph von Eichendorff, it was a song that slumbered 'in all things, / Ever dreaming forth unheard' - whereas for Benjamin it was historical materialism. Herein lies the failure of his monumental and fragmentary lifework as scientific research and its enduring success as Romantic literature."

***
Christopher Caldwell in the
FT
,
" Government by search engine"
.
"In August, Google was reportedly activating 200,000 Android units a day. The potential market is measured in billions of users. Next to that, the bizarre stories about Google that broke this week may sound like small potatoes. Google has bought a stake in a wind-farm project. It is working on a driverless car. It has a 'Google price index' that measures inflation. But these are not publicity stunts or pet projects engaged in by 'playful' employees in their spare time. They are at the core of this innovative and troubling company's mission…. Google is coming to compete, along an ever broader front, with government itself."
***
Matthias Schulz in
Der Spiegel
,
"How Middle Eastern Milk Drinkers Conquered Europe"
.
"Jens Lüning, a German archaeologist who specializes in the prehistoric period, was influential in establishing the conventional wisdom on the developments, namely that a small group of immigrants inducted the established inhabitants of Central Europe into sowing and milking with 'missionary zeal.' The new knowledge was then quickly passed on to others. This process continued at a swift pace, in a spirit of 'peaceful cooperation,' according to Lüning.

But now doubts are being raised on that explanation. New excavations in Turkey, as well as genetic analyses of domestic animals and Stone Age skeletons, paint a completely different picture:

-At around 7000 BC, a mass migration of farmers began from the Middle East to Europe. -These ancient farmers brought along domesticated cattle and pigs.
-There was no interbreeding between the intruders and the original population.

The new settlers also had something of a miracle food at their disposal. They produced fresh milk, which, as a result of a genetic mutation, they were soon able to drink in large quantities. The result was that the population of farmers grew and grew."
***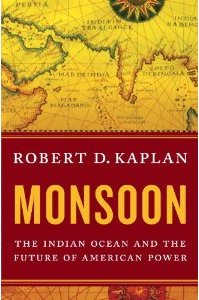 Gurcharan Das in the
WSJ
on Robert Kaplan's book,
Monsoon: The Indian Ocean and the Future of American Power
.
"To understand the 20th century, it was important to understand the map of Europe. When it comes to the 21st century, however, Americans are at a disadvantage because of an inherent bias in their mapping convention: Since the 16th century, when Flemish cartographer Gerardus Mercator developed a method of showing the globe as a flattened surface, Mercator projections have tended to place the Western Hemisphere in the middle of the map, splitting the Indian Ocean at its far edges. Yet the Indian Ocean encompasses a quarter of the world's surface and is home to half of the world's shipping-container traffic."
***
Michael Wines in the
NYT
,
"China Escalates Its Fight With U.S. on Energy Aid"
.
"In an abruptly scheduled news briefing here, the official, Zhang Guobao, sharply rebuked the Obama administration for opening an inquiry on Friday into the subsidies.

Mr. Zhang accused American trade officials of repeatedly delaying talks over the same issues that the White House now wanted to investigate and suggested the administration was playing election season politics.…

It is highly unusual for an official of Mr. Zhang's standing to convene a news conference on short notice and denounce the American government in such blunt terms.
Should the Americans pursue the subsidy issue with the World Trade Organization, Mr. Zhang said, "the only ones who will be humiliated are themselves."
Matthew Wald in the
NYT
,
"A Bit More Ethanol in the Gas Tank"
.
***
David Dapice at
yaleglobal.edu
,
"Once a Winner, China Sees Globalization's Downside"
.
"The US position is that keeping the Chinese currency undervalued – by buying dollar-based assets with Chinese currency – will create dangerous bubbles in China. Indeed, there is massive overcapacity in housing, with one Chinese electric company reporting 60 million housing units connected and not using any electricity, so presumably empty. If another 20 to 30 million units under construction are added, China's excess capacity could house the entire US population! Excess capacity in many commodities such as steel and even infrastructure add to the argument's strength. China will find it very tricky to switch from exports to domestic consumption if there's little need for housing or industrial expansion. It may be that a real slowdown is simply unavoidable in the next few years."
***
Martin Wolf in the
FT
,
"Why America is going to win the global currency battle"
.
"To put it crudely, the US wants to inflate the rest of the world, while the latter is trying to deflate the US. The US must win, since it has infinite ammunition: there is no limit to the dollars the Federal Reserve can create. What needs to be discussed is the terms of the world's surrender: the needed changes in nominal exchange rates and domestic policies around the world."
***
James Grant in the
WSJ
, on Michael Perino's book,
The Hellhound of Wall Street
.
"For 10 days in March 1933, Pecora's investigatory target was Charles E. Mitchell, chief executive of National City Bank, later to become Citigroup. 'Sunshine Charley,' as Mitchell was mockingly known after his fall from grace, came pre-convicted, but his bank was a pillar of strength. Today, in the wake of the serial bailouts of 2008-09, Mitchell's managerial achievement seems almost mythical. From the 1929 peak to the 1933 depths, nominal GDP fell by 45.6%—the American economy was virtually sawed in half. By contrast, during our late, Great Recession, nominal GDP dropped by only 3.1%. Yet this comparatively minor perturbation sent Citigroup into the arms of the federal government to the tune of $45 billion in TARP funds and wholesale FDIC guarantees of the bank's tattered mortgage portfolio.

National City did accept a $50 million federal investment in 1934, after Mitchell resigned. However—and herein lies the difference—the bank's solvency didn't hinge on that cash infusion. Many banks did fail in the Depression, of course. But from today's perspective the wonder is that so many didn't.

To Pecora, though—and to Mr. Perino, too—the health of the National City balance sheet was not the question. Mitchell was a whipping boy from central casting….

Pecora went on to become an SEC commissioner, a judge on New York state's Supreme Court and a crusader for progressive political causes. Mitchell, who resigned in disgrace from National City and lost his houses to foreclosure, refused to file for personal bankruptcy. Rather, he honorably worked to pay every last dollar of debt. Later he built Blyth & Co into a thriving investment bank.

Mitchell or Pecora—who's your hero?"
***
Stephen Spruiell in
The National Review
on Paul Krugman
.
"What happened to Paul Krugman that turned him into an example of the kind of writer and thinker he once lampooned? One explanation, according to a recent New Yorker profile, is that the 2000 presidential campaign 'radicalized him,' because 'he perceived the Bush people telling outright lies' about their plans to cut taxes, 'and this shocked him.' I know the feeling: Who doesn't remember coming to the end of Bill Clinton's presidency, that golden age of innocence, only to discover the shocking truth that politicians sometimes lie? But let's take Krugman at his word. It is true, as Krugman alleged in his column at the time, that Bush used unrealistic surplus projections from the Congressional Budget Office to reassure the nation that his tax cuts wouldn't plunge the nation into deficit. Krugman accurately noted that the CBO's projections were based on highly unrealistic assumptions about how the economy was likely to perform (the air was already leaking from the tech bubble) and about how Congress was likely to behave (the projections depended on fiscal continence, but the GOP had already lost its way on spending). And Krugman argued that if the CBO's projections turned out to be wrong, the nation would experience chronic deficits, insolvent entitlement programs, and, possibly, a sovereign-debt crisis.


If any of this sounds familiar, it's because these are the things about Obama's recently passed health-care-reform bill that radicalized the Tea Party."
***
Paul Gregory
in the Hoover Digest, adapted from his book,
Politics, Murder, and Love in Stalin's Kremlin: The Story of Nikolai Bukharin and Anna Larina
.
"His letter, addressed 'Dear Koba,' rambles, runs on at tedious length, and intersperses hysteria, anger, bitterness, and remorse with ambitious plans for the future. He describes his life in prison, writing as if to allay any concerns 'Koba' might have that he is being mistreated. (He has ceased going outside for exercise because he feels ashamed when other prisoners look at him.) The prison regime is strict: no feeding the pigeons, no talking in the corridors, no noises in the cell, a light burning day and night. But it's also fair: the food is good, and the young jailers treat him decently.

Parts of the letter appear bizarrely inappropriate: 'In my lifetime, I have known intimately only four women.' At the end, the prisoner makes his plea: 'Settle me in a hut somewhere outside of Moscow, give me a new name, let two NKVD officers live in my home, allow me to live with my family, let me work for the common good with books and translations under a pseudonym, let me till the soil.' The letter ends: 'My heart is breaking that this is a Soviet prison and my grief and burden are without limit. Be healthy and happy.' The signature read 'N. Bukharin.'

Nikolai Bukharin's dear Koba was, of course, Josef Stalin, the uncontested master of the Russian house. Following his usual pretense of giving his deputies a voice, Stalin wrote on the border of a transmittal letter: 'Circulate!' and listed seven Politburo members as recipients of Bukharin's plea. Their predictable reactions came back in a torrent: 'the letter of a criminal'; 'a criminal farce'; and 'a typical Bukharin lie.'

Stalin was thus again obliged to bend reluctantly to the will of the party."
***
Andrei Konchalovsky lecture at
opendemocracy.net
,
"Update the software of the Russian soul?"
"The works of the church fathers Gregory of Nazianzus, John Chrysostom, Basil the Great and other holy people we revere clearly show that they knew both Greek and Latin and were utterly at home with abstract philosophical concepts. The theological schools in the early days of Christianity taught not just languages, but dialectics, scholasticism, rhetoric, not to mention geometry, astronomy, and even music too. The theological milieu might well be considered to have constituted the intellectual élite of Europe, even after the schism of Christianity. But the translation of the Bible into Slavonic by Cyril and Methodius, even given the colossal humanistic significance of that presentation of learning to the broad masses, had one vital shortcoming. Greek and Latin remained out of reach, along with the whole invaluable set of scientific tools. Those languages providing the key to the wisdom of the ancient world were practically unknown in Rus. This isolated Rus from the great European traditions of Graeco-Roman scholasticism, from the critical interpretation of any idea, including the religious. In Rus people had no conception of the political and legal culture of classical antiquity. This isolation from classical and medieval theological and philosophical thought largely contributed to the further schism of the Christian world. As the historians Karatsuba, Kurukin, and Sokolov write in their book

Choosing One's History

(2005):

'Rus failed to take account of the experience of Western European scholasticism, the experience of open theological discussion. The sign of authentic piety in Rus came to be 'unreasoning reason' ('Do not dare to have an opinion', 'Do not read many books, lest you fall into heresy')."
***
The World Policy Journal
devotes most of its Fall issue to the question,
"Is there a global canon?"
***
A Page of Madness
(Teinosuke Kinugasa, 1926)
•Sat. Oct. 23 7:30pm
MoMA theater 1
***
L.A. Punk music photographer
Donna Santisi interview
on her re-issued book from 1978,
Ask the Angels
. And here's
another interview
from her summer book event at Book Soup.
***
•October 24, 2010.
Grace Krilanovich
, reading from her novel,
The Orange Eats Creeps
,
at KGB Bar
.


Also
reading at Word bookstore
in Brooklyn, •Tue. Oct. 26.


***
Dan Barry in the
NYT
,
"Who Was Annie?"
***
Obituary of the Week
Marzieh (1924 - 2010)
"In 1979, after the Shah was overthrown, Iran became a theocracy led by the Ayatollah Ruhollah Khomeini. The fundamentalist clerics who ran the country deemed the arts, including music, inimical to the new order. As an artist who was also a woman, Marzieh, doubly marginalized, was barred from performing. She retreated to her farm in the countryside and did not sing in public for a decade and a half…. During this period, the restrictions on female singers were relaxed to a degree, and Marzieh was told that she could appear before audiences of women only. She considered this stricture unacceptable, she later said, and continued her silence, practicing in private where no one could hear her. 'I sang for the birds, for the river, the trees and the flowers,' she told

The Washington Times

in 1995, 'but not the mullahs.'
***
Thanks to Andy Schwartz, Jay Babcock, Steve Beeho.
---
---
Carillon, DuPage River, Illinois
Photo by Joe Carducci
---
---
---
To receive a weekly update notice for the NV, send an email to newvulgate[at]sbcglobal.net with SUBSCRIBE in the subject line. To stop receiving notices, do the same with the word UNSUBSCRIBE.• The New Vulgate• Joe Carducci, Chris Collins, James Fotopoulos, Mike Vann Gray, David Lightbourne
• Copyright retained by the writer, artist, or photographer