Centennial, Wyoming
Photo by Joe Carducci
---
---
Armando Acosta, September 23, 1952 - November 25, 2010
---
Armando and Saint Vitus
by Joe Carducci
---
There was no longer long-shot on SST than Saint Vitus. And as long as it was, it was slow too, but slow like the tortoise. As the band became a fixture on major summer festivals in Europe these last fifteen or so years they surely trod the bones of many a long forgotten hare. I generally preferred slower, heavier music ever since I found it somewhat difficult to settle for anything else after first hearing Black Sabbath at a neighbor's house in 1970. When I came down to L.A. and SST from Berkeley in 1981 I considered Flipper my favorite band. In that sense I was ready for Saint Vitus when I first saw them.
But in practical terms at SST in spring 1982 I wasn't so sure about doing their record. Black Flag was going to halt their deal with Unicorn so we moved out of the Unicorn offices near the Tropicana in West Hollywood and down to a one-room office on Phelan Ave. in North Redondo Beach. Quickly Black Flag rented time at a practice studio called Pax in Carson where Overkill practiced. Though we'd managed to release the Minutemen's "The Punch Line", and Saccharine Trust's "Pagan Icons" albums soon after I came down, those records were already in place and I didn't do much on those. But we also had the early Black Flag singles to keep in print, and the ill-fated "Everything Went Black" vault comp, plus we'd already recorded the first Meat Puppets album, the basic tracks for the Overkill album, and we still had the Stains album and an earlier Overkill 45 to get released. And we had no real cash flow separate from Black Flag's live revenues; we wouldn't for another two years. Yet here was Greg and Chuck telling me I had to see this new band they'd heard over at Pax. I think this was April, 1982 and Black Flag was working Emil into the band and preparing for the Summer tour. I went over with them and met and watched Saint Vitus play their set. The first thing you noticed was Armando's drum kit! The damn rack toms petered out to a size smaller than bongos, and he had layers of cymbals, and double-kick drums of course, but also a couple floor toms as large as most humans' bass drums! You couldn't even see him behind them, and he was big! The whole band looked at first glance like they might have missed that it was now the 80s! Then you'd catch the visual and audio Germs references and find out that they saw bands at the Fleetwood as well as the Long Beach Sports Arena, and they were the only SST band conversant with UK punk bands like Discharge.
Dez was of course immediately, totally into them, and possibly it took Henry, Mugger, Spot and I a split second longer. My concern was how would we budget for another album release with no cashflow, so when Greg asked what I thought about doing their album, I responded, "How about a single?" Obviously I hadn't yet clocked the tunes' running times, nor figured on how wide a groove those low-end rumbling progressions were going to require; they couldn't do a 7" 45. Spot found that one of the Media Art guys had opened up Total Access studio in Redondo and he had just run the Descendents through it so he booked an overnight -- ten hours for $200 if I remember. The recording began with load in at 10pm August 16, 1982 and went til about 9am the next morning. Dez and I went in with Spot. He used the studio's main room with its carefully calibrated angles and acousticly perfect design merely to run the amp and mic cords and power cables through to a larger raw space that Total Access rented but hadn't incorporated into its business yet. It must've been about 25 x 100 feet with a fifteen foot ceiling. Cement floor, steel roof. Spot remembers,
"When we got into the studio—the big live, cement room at Total Access -- I couldn't help think: 'Now it's time to show BF how it's really done!' The Vitus guys left me alone and didn't try to over-theorize anything. Aside from a few ambient miking tricks, it was a real straightforward setup. Armando's drum set looked tricky at first but was actually a piece of cake even with 4 tracks dedicated to the toms. No sonic surprises or nightmares. Only one overhead mic, and I refused to pull the front heads off the bass drums. One of my favorite recording sessions ever!"
Spot's referring to the fact that Greg and Chuck seemed already, even early in the "Damaged" tours to be thinking about their own slowage-to-come as it might apply to Spot's end of things on the touring at hand and the studio work to come.
"Greg was seriously obsessed with the idea of the album sounding dark and sludgy -- i.e., anti-punk. In that regard, 'My War' was a dismal failure since none of the tracks or performances lent themselves to such treatment. Hell, Saint Vitus had been honing their sound for years! They had it down in their sleep!" (Spot, Dec. 4, 2010)

As I understand it Dave Chandler, Mark Adams and Armando Acosta got together as Tyrant in 1979 with Dave singing until Scott Reagers joined and they changed the name to Saint Vitus after one of their songs. They appeared they might be Satanists but their crosses were right-side up; they were actually Christians leavened by some high school drugging, thereafter they mostly just drank beer in my experience. Their first fans were from the lowest circle of Narbonne High in Harbor City. I heard one of them say that a guitar tone whirring across the top of one of their songs reminded him of doing cannabinol and Dave and Mark started nodding and laughing.
According to the
obituary
placed by the Acosta family Armando grew up in West L.A., went to Venice High, enlisted in the Air Force and was an Airman First Class. If I recall he then had a short career as a cop before doing freelance security for Don Dokken and others whom folks might wish to lay hands on. He kept in touch with Dokken and Don even produced one of their later albums ("C.O.D." -- 1993). Armando moved to San Pedro in the late seventies and joined Tyrant; the others lived in Lomita.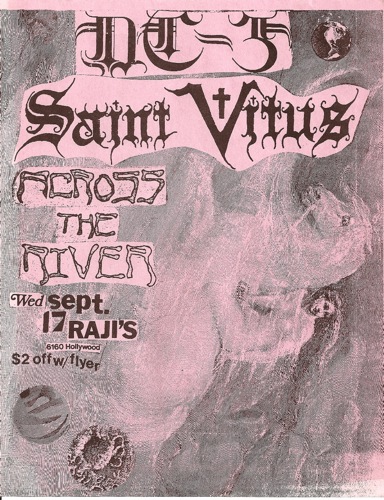 As soon as we came out of the studio with the basic tracks, all done live that night, Spot made some cassettes so Black Flag on tour was listening to it, I was at SST, and Bill Stevenson was getting into it too. The Descendents were into fast playing so it really made a double-take impression there. Bill came around SST a lot as he was getting their first album out and for him it was the song "Zombie Hunger" running through his head. He'd be air-drumming as he came into SST sounding out
"bom, bom, bom-bom-bom… chicka-blam, chicka-blam"
. Those long slow songs really were open to what Armando could do with all those drums. Of course he didn't use all of them to create the principal slow-mo syncopation set-ups that fascinated Bill. But there'd be a use for each of them down the line of albums. The longest, slowest song they did that first session, "The Walking Dead", isn't on the LP but was put out on 12" EP in the UK, its twelve minute crawl-haul occasionally peals the arrangement back to just the drums and one gets an amazing audio portrait of Armando trudging along alone in that big space, the drums slapping back in a room-acoustic counter-syncopation. (youtube sound is especially inadequate with Saint Vitus so I won't overload you with links.)
It took us almost a full year before we were able to spend another two hundred bucks to mix the album. We got it released some time in early 1984. It wasn't the first album that I'd been in the studio for but it's the first one I had some input on, plus I worked out artwork with David Chandler and Naomi Petersen. She was just becoming our go-to girl for photographs and she really clicked with them. I thought she might be disappointed to begin work on them since no-one knew who they were and they weren't punk-looking to say the least. But they were goth in their way, and she liked them and loved having a reason to do some graveyard shoots.
I'm probably over-emphasizing how many slow songs they did. The double-kicks got plenty of work-out, most notably in "White Stallions" off the second album, "Hallow's Victim", which also features "War Is Our Destiny", another barn-burner (There's a nice performance lip-sync music video of this song that we made that got so little response it hasn't found its way onto youtube). This second album was recorded right off of their first real tour, opening for Black Flag from the east coast and across Canada in winter. (
Here's a clip
from that tour.) I talked to them about rotating a few of the new songs into each gig on the tour so that they'd really have them down when they got back. We went straight into Total Access, the main room this time, and it was the sharpest they ever played in the studio. Even a strenuous practice regimen, never their style, is no match for recording right off a tour, only most bands don't play new songs live before they are out on record and so the recorded history of rock and roll suffers. Not that album.
Scott Reagers left the band when the touring was too much for his girlfriend. I thought the band'd never find a decent replacement. You should've seen who replaced Merrill in Overkill; there just weren't a lot of choices. But they'd talked to this guy in D.C. on their tour, also named Scott but better known as Wino, and he'd given them a cassette of his band, The Obsessed. Wino came out and we began to prep "Born Too Late". I remember being surprised when Dave promised that this was going to be their metal album. I thought, Oh I see, "Hallow's Victim", was a punk album in the world of Vitus. Wino fit in great, of course, and for a lot of people "Born Too Late" is the quintessential Saint Vitus album. It is slower and perhaps a tad heavier at its best, and Wino's voice is lower and more naturalistic in approach. Spot had moved to Austin so we had Mike Lardie engineer at Total Access -- he slipped some noise-gates past me which now I hear quite clearly.
The next album, "Mournful Cries", is another favorite of mine. I stayed at Dave's while I was out in March 1988 and found out how much he likes watching "Green Acres" reruns. He lived in the front house of a duplex owned by Mark's parents who lived in the back. We ate back there and the Adamses were like working class Ginns, really nice folks and the place crammed with flea market tchochkes. The band practiced in a shed behind a crack-house in Torrance and they worried they might get their amps impounded or stolen before the studio date came. Whereas for the first album the band could only conceive of playing the tune in its live arrangement, by now they practiced rhythm arrangements for the studio so we could lay down a consistent sound-bed and more carefully set a sound for the solo and overdub it. We were getting real pro by our lights, but you could tell the Music Grinder Studio folks up on Melrose had never had any other band come in and pound out an album's tracking and mixing in four straight twelve hour days. On "Mournful Cries" Wino plays second guitar on some tunes which worked out great; he's got the best rhythm sense of any guitarist I've heard, something elastic akin to John Bonham's drum-feel. Listening to these great Saint Vitus slabs of sound in these studios was better than any live P.A. or LP or CD playback could possibly be. For the song, "Shooting Gallery", we were going to have a fade-out so I was to signal them when to stop playing the final descending pattern, only I forgot as I was just listening to them play it -- totally zoned out until they filled the two-inch reel of tape with it! They came out of their room laughing at me. One Armando-supremo touch is in the last song on that album,
"Looking Glass"
. Somehow I hadn't picked out what he was doing in practice but suddenly under the solo he just went supernova on the cymbals hitting down deliberately with both sticks through two overlapping cymbals on both levels creating an elongated, particularly destructive-sounding bash as Wino (I think) bends and shreiks his melodic climax. Dave had a surprise of his own, springing those little scratchings on his strings after the riff strikes. Amazing first take.
They were getting somewhere too. I remember
Flipside
's review of the first album where Al just couldn't understand the point of the record, but there was a nice feature with photos on the band in a late 80s issue. They won some respect for doing their thing from the beginning and the world was beginning to go their way. There was a funny cartoon ad for somebody in
Forced Exposure
that pictured a walking cliché of a long-haired flannel-wearing Seattle rockhound depicted slack-jawed and carrying a Saint Vitus album in one hand and a Soundgarden album in the other.
Some time after "Mournful Cries" was released Dave called me in Chicago and told me he couldn't get Greg on the phone and they had this offer to go to Germany to do an album and tour. He wasn't sure it was a good idea so we talked it through and since he figured Greg was less interested in them now they went for it. After they signed to do the album "V" for Hellhound in Berlin in late 1989,
then
Greg called….
It's another great record and they've done more, most notably "Die Healing" with Scott Reagers back after Wino left to reform The Obsessed. A particularly… I want to say witty, performance on that album is
"In the Asylum"
, certainly its hard to compare what Scott and Armando are doing here with anything anyone else has ever done -- it's comic-doom that bears relation to some of the Ramones' great mental tunes only with completely different sound dynamics.
With all the activity in Europe Armando often played on rented drums. Here's a lip-synch music video for the song
"Fear"
from 1992 with Christian Lindersson on vocals; you can actually see Armando over the top of his small rented kit!
I think of all the early SST bands Saint Vitus probably got along the best. It's Dave's vision you'd have to say but he pretty much grew up with Mark and Scott, and then Armando was such an easy going guy, it explained how they could make this long tortoise run. They didn't practice daily like Black Flag did so they didn't get on each others nerves. Wino has a vision as well and so his relationship with Dave has had its ups and downs but I was glad to see them back together to play these European dates recently. They even did a rare Los Angeles gig a couple years ago where they got something like respect from Hollywood and all. They never really "made it", they just concentrated on the writing and playing of album after album of inspired music.
Given all that it was a surprise to hear from Dave that he'd replaced Armando after some 2009 shows in Europe. In what is probably a January 2009 (rather than 2010 as its labeled) performance in San Francisco of
"Look Behind You"
which Dave introduces as the band's first song, Armando is wailing pretty solid though he could slur on some of the faster rolls as he does here. Apparently Armando's health had been deteriorating and it was affecting his playing. In a backstage video on youtube he looks a little thin and he shows some large swelling on his lower throat. According to the band's statement his last show with Saint Vitus was April 29, 2009 in Stuttgart. Armando got angry -- something hard to picture -- but he felt well enough to complain about his treatment online. He obviously loved being in Saint Vitus, whatever little it got any of them in the greater scheme of the Rock and Roll Industry. They did love it and these back-end gigs were certainly great proud fun for them all. That summer they were apparently slotted just before Mötley Crüe at Roadburn Festival in Holland. They've announced they'll record another album soon with Wino on vocals. It'll be another great album, but I expect it'll sound strange to my ears with no Armando churning down in the music's engine-room. He passed early Thanksgiving day, November 25 at Providence Little Company of Mary Medical Center in San Pedro.

Now that I can't see him play drums again it occurs to me that I haven't seen them play live since a gig at Raji's in Hollywood with D.C.3 and Across the River in late 1985. Time flies you find whether you're having fun or not. When I was working on my Naomi/SST book I got back in touch with a number of people. Also caught up on my L.A. punk lit which included Brendan Mullen's books. I'd known him slightly from the old days but hadn't been in LA, or in the music scene anyway, in his Masque heyday, but I was aware of his documenting those days with his writing. We got together at his place and he showed me his archive of stills and flyers; he also showed me his coachhouse studio with his records and drum kit and DJ'ing turntables. He was very interested in finding out about the various nooks and crannies he'd overlooked in his books about the massive sprawling Los Angeles music scene of that era and I got the idea he might do an addendum to
We Got the Neutron Bomb
. I wouldn't have guessed Brendan wasn't long for this world either, he was still so enthusiastic about music and life. I made him some cassettes of LAFMS stuff, Secret Hate, Across the River and other stuff, but it was the first Saint Vitus album that blew his mind; he'd never heard it before:
"Freaked out... sounds so great on these bitchin' new speakers I just got for my dj'ing .... another fucking great track to obsess over .. when I freak out over a song or a track ... it's like adrenaline... inspires my ass to keep on keepin' on. SV (the song) so rocks like that... Also crazy for that sound you guys got especially the drums and bass... that warm, booming bassy breathing sound which pans out superswell on the new speaks which have MONSTER depth. Wait till you hear it, maybe you'll flip, too... How do you get that drum sound.. haha? Wouldn't I just love to know the secret recipe.. haha." (Brendan Mullen, email, June 1, 2006)
It was a pleasure to turn him onto it all those years later.
Saint Vitus for some were the most important band on SST Records; its amazing how many different languages a google search for Armando's death brings up. For others they're just a name of something they're sure they'd hate. To my mind it's the quality of the overlooked bands of the South Bay area of Los Angeles back then like Saint Vitus, Saccharine Trust, Overkill, Slovenly, Secret Hate… that really tell the tale. It occurred to me when Ray Farrell wrote me about how he remembered responding to the early SST releases I sent up to him in attempting to get him down to SST. He was still up in Berkeley very involved in that music world and he referred to the SST bands as "neighborhood bands", which made me think that that might be the secret, maybe only in the south bay did rock music continue to be a folk music like rock and roll had been for the sixties garage bands and the rockabilly bands of the fifties. Ray closed, "I used to wonder if St.Vitus was taken seriously enough amongst a stable of groundbreaking music associated with punk. They were the real thing. I'm serious about their legacy... I hope Dave keeps it going." I'm sure Armando does too.
[Images: crop from a test for "Hallow's Victim" cover, by Naomi Petersen; Saint Vitus with Naomi Petersen, D.C. area 1992; Saint Vitus 1983, taken by Naomi Petersen]
---
---
"St. Vitus, don't bite us!"
By Ray Farrell
---

When I first started with SST '85, I was in a phase where I wanted to knock down some brews in the kind of bars that Bukowski would hang in. The "old man" bars. I met the Vitus boys in my second week on the job and they took me to their favorite tavern, Zeb's Thirsty Club in Redondo Beach. Oversize neon sign from the 40's or 50's out front but it no longer lit. Bet you could've seen that sign from the 405 freeway back in the day. And the message is simple. You thirsty? Join the club.
It was a bar for the locals and pretty lively. I saw a little guy get slapped around by a woman twice his size. Anyway, we talked about metal before the genre was coined -- Sabbath, Steppenwolf, Mountain, Budgie, they even knew the records of Sir Lord Baltimore. Teaching myself bass, those records were a blast to play to. I think we drilled down to a couple of choice BTO, Sugarloaf and Skynyrd songs too. This was a good hang.
Fast forward to 1987 or 88. We had a few bands playing the CMJ convention in NYC, including Saint Vitus and Das Damen. I shared a hotel room with Spaceman of SST. He had the brilliant idea to push the beds up sideways against the walls and host an afternoon party with Das Damen playing in the room. He pulled it off and I was amazed how long it took security to shut us down. When they did, it was like a swat team swoop. Damen had to get their gear out under security's watch and then we were told to leave. The locks were changed and we were told that a thorough inspection for damage, theft, drugs etc. was next. After which, we'd get a bill. We didn't know if we would get back in but we also knew that nothing was damaged.
I had told Saint Vitus that they could crash at our room when they hit town. Some hours later, I'm walking to the subway near Port Authority and 42nd St which at the time was pretty rank but crowded. It was a brisk late October night. I see all four Vitus guys huddled together sitting on the sidewalk against a liquor store, passing a bottle. It was "Thirsty & Miserable" personified! Zebulon's Thirsty Club comes to the Big Apple! What are the chances of stumbling on them in NYC like this? I told them about the hotel situation but to hold on and we would have it straightened out in an hour or two. We hail two cabs and head down to King Tuts Wah-Wah Hut or some east Village gin mill. Within a few hours Vitus had found friends to crash with.
Saint Vitus definitely left their mark and I'll bet it ain't done yet. Listening to almost any disc on the Southern Lord or Small Stone labels will impart roots in Saint Vitus. Armando reached Kingdom Come!
---
---
Love In The Time Of Sacrifice
(Or, Spoiler Alert: The Sheep Gets It!)
By
Carolyn Heinze
---
---
After that, I ate vegetarian for a whole week.
Having been forced to spend four long, endless, never-ending ceaseless years in grainy, granola-y, organically-grown Vancouver, I'd sworn I'd never, ever,
plus jamais
, ever eat vegetarian again. Never.
Plus jamais
. Again.
It was the sheep's fault. Well it only kinda was, but not really, though kinda indirectly. If it hadn't have been for the sheep, I would have been savoring savory
souris d'agneau pendant toute la
flavorful-savorful
semaine
. But after the whole slitting-its-throat bit?
Pas possible. Pas possible du tout.
Because: While watching someone slit a sheep's throat isn't so supremely surprising per se, watching them slit a sheep's throat while listening to them lament about love is kinda just a bit too much. O.K. sure, all right, fine…while they were actually doing the slitting they were doing some praying, actually. (As, we can imagine, the sheep was, too.) But right after? When they hung it inside-out and upside-down to drain the brains and blood and guts and stuff? Gossip-gossip-gossip, girls-girls-girls, grumble-grumble-grumble, gab-gab-gab. And the shit they were saying! I've never had a Kurdish lover of my own, so I can't really say how Kurdish men really are, really. And, of course, when you really think about it, it's not right and fair and PC and just to judge all Kurdish men based on the behavior of some Kurdish men, but . . . The shit they were saying! Not to be unfair and unjust and un-PC or un-anything or anything –but it was like –
c'est quoi, l'expression ?
– it was like the blind leading the blind. Or the sheep following the sheep. Straight to the sacrificial slaughterhouse.
But blind
Kurdishlover
is not, nor is the actual Kurdish lover around which the actual documentary is based, nor is the documentary's director, Clarisse Hahn. Hahn actually believes in spending time with her subjects – months and weeks and even days and even years. So it's her subjects that grow blind – to her and to her camera – while her audience gets to see a whole helluva lot. It's kinda like "Striptease" – you know, that Belgian show? The one where they follow real people around? The one with the famous episode where the old lady talks to her dead (stuffed) dog? (Think he died of old age – not a slit throat.)
Kurdishlover
features a few old ladies, too, though none of them talk to dead (stuffed) dogs. Or dead (stuffed) sheep. They do yell at one another quite a lot, though, and you gotta hand it to them for their command of insults. I'd never before heard so many suggestions on what one might do with a donkey's own penis and one's own ass! Whew!! Oww!!! Oyyy!!!! Eeeee!!!!! (And if you're waiting for an ass joke, don't bother – there are positively so many possible possibilities that I'm possibly positively spent.) Heeeee-haaawwwww!!!!!!
En gros
, in the big picture, big time, on the big screen,
Kurdishlover
is about a bunch of people who get on each other's nerves. (I don't know if you've noticed, but there are quite a lot of documentaries like that.) (I don't know if you've noticed, but mainly-mostly all documentaries are like that.) (This is because people are mostly irritating, don't you mainly think?) But wait! There's more. You know
moi
– there always is.
Clarisse Hahn is pretty and pale and blonde to boot, and a tough nut to crack, too. (You know, in that pale/pretty/blonde/tough-nut-to-crack French girl kind of way.) She doesn't offer up much, but her eyes challenge you to just try to pry, and once you're done not really successfully prying and feeling all awkward and weird and slightly silly and slightly even more incompetent about it, you tell yourself (to make yourself feel better) that maybe she's just plain shy. Which I honestly highly doubt, because the way she wields a camera requires a startling set of super-sized, super-charged, super-female-powered balls. It's pretty – French accent
obligatoire
– sup
er
.
Kurdishlover
– as I understand it from the trying and prying that I managed to do – kinda happened by accident, from an apartment window near the center of Paris. Outside, a bunch of guys were yelling and jumping around. Many of them weren't wearing shirts. What's a girl with a camera to do? Well, fellas, if it were the other way around, what would YOU do? Hahn grabbed her gear and started filming. (Dontcha just love the instantaneous inspiration involved in the inspired instantaneous creation of art?)
Once she discovered and discerned that the dudes without duds had nothing to do with Gay Pride (not enough glitter), Hahn discerned and discovered that it was a demonstration. A Kurdish one. You know, a Kurdish one boasting a lot of shirtless-dudless Kurdish dudes. Hahn got interested – there might be a story in this. (The whole shirtless-Kurdish-expats-in-Paris-plus-home country-at-war being a good hook.) But to hook her hook Hahn needed a hook-up in Paris's Kurdish community. So she hooked up – professionally, and then romantically – with Oktay.
Here's what I can tell you about Oktay Sengul: He has dark eyes that dance with curiosity and mischief. He speaks about 18,000 languages…or at least five or three or four. He sometimes goes shirtless – I know, because I danced with him that way once (he
sans
shirt,
moi
with), years ago, at a wedding. (I kinda got in
la merde
for it.) (But not by the groom or bride.) (Some wedding guests that leave early to rush home to pay the babysitter, but not before playing babysitter by imposing their boring
banlieue
-inspired beliefs can be so, well, boring,
n'est-ce pas ?
) Anyway, Oktay – also a filmmaker – is French, of Kurdish descent. Parents moved here in the Seventies: his dad in 1973, his mother in 1976. His brother was born There, but mostly lives Here. And there, in a little village in the big Kurdish mountains, there is a grandmother and cousins and neighbors and enemies and pagans and shepherds and shamans and sexually-frustrated hermits and visitors and friends.
"I choose to focus not on the moments of tension and acceleration, but on the banalities of daily life," Hahn says of her work. But "banal" can be a subjective concept. Like, for instance, just how many sexually-frustrated hermits do
you
know? Me, I've never sacrificed a sheep . . .
et vous ?
(For those of you waiting for the ol' "Did ya hear the one about the hermit and the sheep…" joke: get your damn minds out of the gutter.) Has anyone ever forbidden you to learn how to read, in case you get too free-spirited, too freethinking, too freewheeling, too
fou/folle ?
When was the last time you partied with the pagans? And the last time you proposed marriage to a woman, did you think to invite your mom?
Maybe I'm just sheltered.
En vérité
, Hahn admits that her original plan was, in part, to explore the tensions in a tense war-torn country. But when you're dealing with people who are actually torn and tense, and who would be even more torn and tense if they tried to express a political conviction . . . Well, just try to pry. "It's a country at war, but (in the film) you don't see a lot of that," she says. The result is much more interesting,
sans
intellectual masturbation, full of unforced humor that's all wry and winking and wit, and – on the part of Hahn's Kurdish lover/collaborator – a willing
vulnerabilité
. (I mean really, would you want everyone to see how nuts
your
family is?)
Oktay may have Kurdish roots, ones that trace all the way back up to that tiny village in the gigantic mountains, but he's a Westerner, a Parisian Westerner, with the hipster clothes and hipster hair and hipster social calendar to prove it. His is a life of
vernissages
and screenings and shared household duties and, as far as I know, very little sacrificing of sheep. Back at the farm, it's gotta feel
un petit peu
schizophrenic. Here in Paris – among the Kurdish that have never really gotten or wanted to get the hang of getting Westernized – it's gotta be weird as well. At least sometimes. The guy who brought his mom along, all the way up to the Kurdish mountains, where he was going to propose marriage? (Not to his mom; to another girl.) That was Oktay's brother, the one who's just a few years older, the one who was born in Kurdistan, but who – mainly, mostly – lives here. Doesn't want a Western girl – can't comprehend why someone would.
Reaallllly
doesn't get why some Western women don't think that men should be waited on, hand and foot, foot and hand. Makes one wonder how it plays out at dinner parties
chez les
Hahn/Sengul, when Oktay pours Clarisse another drink before retreating to the kitchen to do the dishes. (Oh, and just so you know, at the big, bring-your-own-mom marriage proposal party? Remind me: What's Kurdish for "no?")
Kurdishlover
is Hahn's fifth film. Her next project? It's called
BOYZONE
, and I can't wait! It's about boys and men and men and boys, and more importantly, boys and men and their bodies. She's been working on it for years, has already made a series of video series . . . but I'm waiting for the big, long, hard, extended one. Images of naked Nureyev knock-offs are already stretching and leaping and bending over and pirouetting through my head!
Sauté ! Plié ! Relevé !!
WEEEE!!!
I just have one weeny-teeny-tiny-deflating worry: If Hahn is so interested in
les banalités
, does that mean there'll be no Nureyev knock-offs and just a lot of sag instead?
---
---
Poicephalus Rueppellil
by
James Fotopoulos
---
---
From the Desk of Joe Carducci…
"What was most heartening about that campaign was the respectful and extensive coverage my ideas received in the mainstream media."
- Pat Buchanan,
A Republic, Not an Empire
, 1999
Sounds like a real scientific breakthrough subbing cyanide for phosphorous in that microbial life form the other day. But we've long known that man can subsist on his own bile because we subscribe to the
New Yorker
. John Cassidy's piece,
"Enter the Dragon - Why "state capitalism" is China's biggest knockoff"
, is a classic of the form. It ties itself neatly in an ouroboros and leaves hardly even a stain. His labors thru the history of Western dirigisme as if it undercuts complaints about current Chinese industrial and trade policies, as if that were the very engine of growth here then or there now. That's like claiming our fumbles won the game for us; might as well credit slavery with getting us to the moon.
He intimates by the construction of a defense for China's behavior that he might agree to dirigisme would Americans only elect the right experts and leave them alone. Purely in terms of ideas this is all Pat Buchanan. The Democrats have been reverse-engineering his old campaign platforms because he's the one writer focused on the American working class which Buchanan's writing colleagues in the shirking class only pretend is their Job No. 1. There used to be moments on the old CNN program "Capitol Gang" when Bob Novak and Pat Buchanan together held the floor and yet covered the entire spectrum of what ought to be the public debate if the Democrats possessed a love that could dare speak its name. Al Hunt and Mark Shields and whoever else on the panel would just watch for a moment as Novak and Buchanan argued.
The debate is all on the right, and it's between and among Country Club Republicans, working class conservatives, and white collar libertarians, with a few gun-toting premature anti-fascists for good measure. Novak was the free market purist and he did quite well describing the roundabout punishments the market would exact when in those years Japanese industrial policy -- dirigisme -- would get impatient Pat's juices flowing. Novak was right about Japan, but Buchanan was right as well in that no government can truly be non-responsive to the pains of economic dislocation that people might suffer waiting for such comeuppance. Our problems are less intense due to our higher tolerance for dislocation. It's always been easier to move around this country and reshuffle your fate. Perhaps Cassidy mentioned Buchanan but his editors knew to scrub that name out. His book,
A Republic, Not an Empire
ought be where the Left proceeds from -- they could learn once again to love the working class and even certain American traditions like constitutional government. Buchanan ought be an American Carl Schmitt (whose influence on the European Left is touched on below). Molly Ivins rejected this unconsciously by sending it up when she noted that Pat's "Culture War" speech at the 1992 convention sounded better in the original German.
As regards the
New Yorker
's automatic projected plagiarism, I refuse to cancel my subscription; they aren't getting off that easily.
***
Gerald O'Driscoll in the
WSJ
,
"Why Do We Have a Central Bank?"
"Policy makers are debating the wisdom of the Fed's dual mandate of providing price stability and full employment. Rep. Mike Pence (R., Ind.) has introduced a bill to amend the Federal Reserve Act to end the dual mandate and give the Fed one goal: maintaining price stability (H.R. 6406). The dual mandate is seen by many as giving the Fed an impossible assignment of simultaneously optimizing two variables with one policy tool. It is also not clear that a central bank is capable of maintaining full employment.

Yet maintaining stable prices was not part of the Fed's original mandate and, aside from some economists, few thought it the Fed's job. The gold standard provided for stable prices over time, and the Fed's job was to maintain that standard (which does not require a central bank)."
***
Jeremy Page in the
WSJ
,
"China Clones, Sells Russian Fighters"
.
"Not only have Chinese engineers cloned the prized Su-27's avionics and radar but they are fitting it with the last piece in the technological puzzle, a Chinese jet engine. In the past two years, Beijing hasn't placed a major order from Moscow. Now China is starting to export much of the weaponry, undercutting Russia in the developing world…. This epochal turnaround was palpable in the Russian pavilion at November's Airshow China in the southern city of Zhuhai. Russia used to be the star of this show…. This year, it didn't bring a single real aircraft -- only a handful of plastic miniatures, tended by a few dozen bored sales staff."
***
WSJ
:
"Ethanol on the Run"
.
"A left-right coalition is emerging to end ethanol subsidies…. Conservatives like Tom Coburn dislike this costly industrial policy, while liberals like Barbara Boxer and Sheldon Whitehouse are turning against the hefty carbon emissions that come with corn fuels…. The ethanol industry is responding by predicting disaster if it loses its taxpayer feeding tubes, with the Renewable Fuels Association evoking massive job losses and another Dust Bowl. But what kind of business can't survive without subsidies when government also mandates that consumers buy its products? As the Senators dryly noted, 'Historically our government has helped a product compete in one of three ways: subsidize it, protect it from competition, or require its use. We understand that ethanol may be the only product receiving all three forms of support from the U.S. government at this time."
***
Gordon Crovitz in his column in the
WSJ
looks at
"Julian Assange, Information Anarchist"
and finds an interesting paper trail. My favorite phrase is his channeling Al Pacino in
Godfather II
:
"Mr. Assange is misunderstood in the media and among digirati as an advocate of transparency. Instead, this battening down the information hatches by the U.S. is precisely his goal…. In 2006, Mr. Assange wrote a pair of essays, 'State and Terrorist Conspiracies' and 'Conspiracy as Governance.' He sees the U.S. as an authoritarian conspiracy.' To radically shift regime behavior we must think clearly and boldly for if we have learned anything, it is that regimes do not want to be changed,' he writes. His central plan is that leaks will restrict the flow of information among officials -- 'conspirators' in his view -- making government less effective."
***
Brian Walsby on a
Glen Friedman photo of Black Flag
.
***
John Jurgensen in the
WSJ
with his
"When to Leave the Stage"
, calls to mind that dopey
Village Voice
review of one of the more recent Sonic Youth albums where the girl-critic called on them to break up because they looked older and weren't riding the crest of her personal zeitgeist anymore. The Pop moment is for fans, largely a media audience since the twenties. That's fine for people who aren't music writers. But what's a music writer's excuse for such lazy thinking, Pop theory? Are they still in high school, using bands as badges to show fantasy enemies what's what? Jurgensen is writing about Bob Dylan and I'd say Dylan, like Sonic Youth, wasn't actually at his musical best in his Pop moment as zeitgeist skyrocket or silver salute as the case may be. It's fine, the not-so-critical mass took what they needed when it was offered at whatever point in the artist's development. Sonic Youth is a far better band since "Washing Machine" than when they made their legend over whatever that all was back in the day of early indie platinum of you-guessed-it late capitalism. Dylan is a solo artist who never lets his hireling bands get comfortable. That works sometimes, other times doesn't and that may be part of what's come back to bite him and not the Rolling Stones. But live? Live is what Jurgensen purports to be evaluating and yet none of the bands' lineups or members are mentioned, compared, named…. His point may be: Bob you're embarrassing me, you should retire like Bobby Sherman (pictured) did. Well Bobby's fans had the good sense to move on; they weren't pretentious about it. Bob is calling you on your pretense and it's you who are failing and perhaps your question should go to you no matter your chronological age. (Knowing nothing about Bobological studies I might suggest this all may stem from Dylan playing in venues a step too large for what he's doing on stage. And while I'm between these parentheses allow me to interject that if Robin Trower releases a masterpiece in the 21st century and no music writer hears it, he still has, woe is us, released a masterpiece.)
***
Michael Cieply in the
NYT
with his
"Coen Brothers Saddle Up a Revenge Story (or Two)"
lets the Academy Award-winning Coenizer claim they never saw the original
True Grit
(1969) by Henry Hathaway as if he was someone safely ignored. Go look at his filmography, Michael, and compare it to the Bros. The piece labors to refight the sixties when we could pretend John Wayne and Richard Nixon were laughable, yet dangerous, because they didn't listen to Firesign Theatre albums, yet voted for Hitler in their youth. I'm sure Jeff Bridges will be good in this and knows where his lunch was prepared.
***
According to
NBC-Bay Area
"George Lucas Wants to Resuscitate Dead Actors With Computers"
to make new films. George, first things first, you're going to have to resuscitate some dead filmmakers so the dead actors are in something worth seeing.
***
The Darkening Trail
1915 (William S. Hart/ WSH, Enid Markey)
Oil and Water
1913 (D.W. Griffith/Blanche Sweet, Henry Walthall, Harry Carey)
American Cinematheque
•Sat. Dec. 11, 7:30pm
Egyptian Theater, 6712 Hollywood Blvd, Hollywood, Cal.
***
Harry Chotiner at
tnr.com
, on Tino Balio's book,
The Foreign Film Renaissance on American Screens, 1946-1973
.
"In the first year after the war, over six hundred American films played on European screens. Initially this worked well for American studios and foreign audiences and the income from overseas sales proved significant. But a backlash was inevitable and swift. Italy and France took the lead, demanding that the United States limit the number of films exported to their countries, the number of screens on which they could be played, and the amount of profit that could be extracted from those countries. For reasons of culture and capital, the Italians and the French quickly re-established their own film industries, and then began to penetrate the American market.

D-Day for the European invasion came in 1946, with Roberto Rossellini's Open City. A powerful drama about the Italian resistance, featuring both gifted professionals such as Anna Magnini and untrained actors, it shattered audiences with its authenticity and its tragic ending. To everyone's surprise, it played at the World Theatre in New York for twenty-one months…. For all of the talk of foreign films in Life magazine and their appearance at assorted film festivals, the movement was overwhelmingly a New York phenomenon. Of those 450 art houses in 1960, a third were in New York, and they accounted for over 60 percent of all ticket sales to foreign movies."
***
Michael Dirda in the
Times Literary Supplement
on the
American Library collection of H.L. Mencken's Prejudices
.
"What Mencken particularly loathes is the American tendency to 'a highly self- conscious and insipid correctness, a bloodless respectability, a submergence of matter in manner'. Little wonder that he assailed those who would ban Theodore Dreiser's Sister Carrie and James Branch Cabell's mildly lubricious comic fantasy Jurgen. Great American fiction, Mencken contended, in what might almost be the prescription for a mid-career Saul Bellow novel, should embrace 'the whole, gross, glittering, excessively dynamic, infinitely grotesque, incredibly stupendous drama of American life'. Certainly young people in the 1920s found Mencken liberating. He repeatedly denounced and satirized Prohibition, religious mania, the duplicity of politicians, any appearance of the bogus and self-serving, and every sort of do-goodism. He argued for the rights of the people he called 'Aframericans'. Yet he also detested jazz, couldn't perceive any artistic merit in film – though he did once interview a weary-hearted Rudolph Valentino – and he greatly disliked seeing couples wriggling 'to the tune of some villainous mazurka from the Mississippi levees'. "
***
Ron Santo photo essay in the
CT
,
"A Life in Baseball"
.
***
Spencer Ante & Amy Schatz in the
WSJ
,
"Web-Traffic Spat Over Netflix Highlights New Tensions"
.
"The dispute plays out in a cyber area that regulators have generally left alone. Few consumers, meanwhile, are aware of just how many companies are involved in the Internet's continuous, multidirectional relay race. Clicking on the 'Watch Instantly' button on Netflix sets off a chain of events that ultimately involves several Internet middlemen. They include 'content delivery networks' that handle the technology and relationships needed to distribute video online and backbone companies that own the fiber-optic highways used to move traffic among networks.

Companies that handle Internet traffic have long struck 'peering' arrangements, in which they agree to carry each other's traffic, typically at no cost. If one carrier transmits more traffic than the two sides agreed upon, that carrier sometimes pays another to offset the imbalance. Such payments rarely happen because the traffic rarely stays out of whack for a long time. But as video has become a significant source of traffic, those peering deals are coming under increasing stress. A video stream takes up vastly more space on the Internet than sending email or surfing the Web."
***
Andy Kessler in the
WSJ
,
"Time to Shut Down the FCC"
.
"Besides the obvious question of whether the FCC even has the authority to regulate the Web—in April, the U.S. Court of Appeals for the D.C. Circuit said it doesn't—the agency has a long history of restraining trade. Founded in 1934 partly to regulate radio spectrum (which in reality hasn't ever been scarce), the FCC delayed FM radio by favoring AM and television in spectrum allocation, mandated a TV network oligopoly by restricting station ownership, and kept long-distance rates too high for decades by forcing operators to subsidize local telephone costs. Now, because of bad bandwidth policy, it limits what smart phones can really do."
***
Ianthe Dugan in the
WSJ
,
"In California, a Road to Recovery Stirs Unrest"
.
"The union, which represents 9,000 public workers, brought the suit in State Superior Court in November claiming that state and county transportation agencies are 'illegally proceeding with a public-private partnership.' The suit is asking the court to force the state to put the project up for bid and stop work in the meantime. While the case awaits a hearing, construction is proceeding. 'They are holding the project hostage,' says Paul Meyer, executive director of the American Council of Engineering Companies of California, a trade group representing private engineers. 'If a judge temporarily stops this project, it will be a disaster.'

Michael Likosky, a professor at New York University who is a specialist in public finance, says that the case holds ramifications for similar projects around the country. 'Municipalities are rejiggering the way they handle construction of roads, bridges and other infrastructure—and this project is a watershed,' he says. 'If it is derailed, it could make it harder to put together these deals around the country.'"
***
Tiffany Hsu in the
LAT
,
"Californians need water, but desalination projects are bogged down"
.
"More than 15,000 plants are churning out tens of billions of drinkable gallons daily in more than 100 countries. But desalination has been lagging in California, where water woes are especially dire, industry and government officials say. They blame the slow progress on a disorganized local industry, litigious environmentalists and a thorny approvals process. Connecticut-based developer Poseidon Resources has been trying to build a $650-million plant in Carlsbad, but the project has wallowed in red tape for more than a decade. It also has battled a dozen legal challenges.


The facility, which would sit beside the Encina Power Station, would churn out 50 million gallons of drinkable water a day — 10% of San Diego County's needs. The facility may start construction in March, executives said. But for now, as Poseidon tries to untangle the red tape, a small pilot project on the site is producing about 40,000 gallons of drinkable water."


***
Cynthia O'Murchu & Stanley Pignal in the
FT
,
"Net fails to catch €700 of errors"
.
"Suspected fraud cases are referred to Olaf, the EU's anti-fraud body. Set up in 1999 after a string of corruption scandals caused the mass resignation of the European Commission. Olaf has faced near-incessant criticism since its inception, and is seen by some as the Achilles heel of the EU's fight against fraud."
***
George Parker & Nicholas Timmins' analysis in the
FT
,
"Breakneck Coalition"
is a good illustration of how the
Financial Times
differs from the
Wall Street Journal
. It's go-along get-along ethic doesn't do much to suggest anything other than muddling through, as if there were no real crisis that some supposed competence couldn't address with things even as they are. There is realism in simple acceptance that mankind's institutions are what they are and can't be undone or improved, but that precludes the kind of real world experimenting that Britain will now profit from, even if only in comparison to what is being tried elsewhere.
"'This is far faster and far more radical than anything Margaret Thatcher attempted,' says Colin Talbot, professor of public policy at Manchester Business School. He says the scale and pace of the reforms could lead to 'a series of train wrecks'. The amalgam of Tories and Lib Dems -- the first 'blue-yellow' government since the 1930s -- has already spawned £81bn ($126bn) of spending cuts and programme to eliminate Britain's deficit within four years, which has divided economists."
***
Richard Milne in the
FT
,
"In a monstrous grasp"
.
"'The governments have created their own Frankenstein's monster,' says the New York-based Ed Yardeni. 'If you run a big deficit, then you create your own monster in the form of the bond markets.' Like the runaway creature of Mary Shelley's classic story, bond markets are on the seemingly relentless hunt for their next victim."
***
Annamarie Cumiskey at
euobserver.com
,
"EU-money to the mafia, the tobacco industry and multinationals?"
"The Italian mafia makes it look so easy, and that's the problem it is. The Italian mafia, fortunately, is an extreme case of how EU funds are abused, but it shows how impotent the EU institutions are to stop this."
***
Johannes Thumfart at
signandsight.com
,
"Elitist revolutionary strutting"
.
"When 'The Coming Insurrection' (here in English) was published anonymously in France the state authorities came down hard on its presumed authors. Based on the theories of the Nazi jurist Carl Schmitt, the manifesto calls for political violence and fulminates against democracy and the rule of law…. The radical text initially attracted the attention of the middle-class press because of the central role it played in a legal scandal. It was the main reason why a commune in the French village of Tarnac was put under police surveillance in 2008. The group was suspected of having sabotaged TGV lines and several of its members spent several months in jail, among them the independent scholar Julien Coupat, the head of the collective. The allegations proved unfounded. And yet on 22 October 2010 a court of appeal overturned the request to suspend the inquiry, on the suspicion that the alleged authors of 'The Coming Insurrection' were likely to carry out terrorist attacks in the future."
***
MercoPress.com
:
"Havana launches debate on neo-capitalism and 'the future of the Cuban Nation.'"
"The sweeping neo-capitalist changes, which also would end the country's unusual dual-currency system and create new ways to buy and sell private property, were announced earlier this year and outlined in a 32-page document circulated among party leaders ahead of an all-important Communist Party Congress scheduled for April -- the first since 1997.

From December until the end of February, Cuban citizens are encouraged to weigh in on the proposals through party organizations, union meetings and neighborhood and workplace gatherings nationwide, according to an editorial published Wednesday in the state newspaper Granma. 'Nobody should remain with an unexpressed opinion, much less be prevented from expressing it,' the editorial read. 'The Party demands the maximum transparency from all its organizations, the greatest clarity in analysis, the clarification of all doubts and anxieties we may have within the bosom of the Revolution.'

'At stake is the future of the Cuban nation,' Granma said."
***
Dinny McMahon in the
WSJ
,
"Shadow Lending Hampers Beijing"
.
"China's government has traditionally used its control of the largely state-owned banking sector to regulate the country's pace of economic growth, directing it to pump out cheap credit in good times and restricting the volume of new loans to prevent overheating. But controlling credit has become more difficult as the financial system gets more sophisticated, analysts say, complicating Beijing's efforts to bring the economy in for a smooth landing in coming months."
***
Virginia Postrel in the
WSJ
,
"Recovering China's Past on Kenya's Coast"
.
"For a resurgent China with often-controversial business ventures in Africa, Zheng's voyages epitomize what the 20th-century literary critic Van Wyck Brooks called a 'usable past'—a historical tradition that serves present needs. Falling somewhere between history and myth, a usable past selects and emphasizes what is relevant and resonant for the present and omits the contradictory or distracting. It both shapes and communicates identity, whether national, ethnic, artistic, religious, institutional or personal."
***
Ethan Gutmann in the
Weekly Standard
,
"Saga of a Chinese Freedom Fighter"
.
"They were getting close now. During the day, they would practice on an abandoned hub pulled out of the junkyard. By night, they would scale poles in strange neighborhoods, always in pairs, with Big Truck, Lei, or Hou scrambling to understand the hub configuration while Great Sea, Liang, or Zhou distracted the neighborhood watch—the old women wearing red armbands. On the night of February 16, 2002, Liang received word that some television screens in the steel-town of Anshan, a five-hour drive southwest of Changchun, had briefly flickered, gone black, and been replaced with a Falun Gong spokesman clarifying the self-immolation. It was only on cable and it hadn't lasted—a practitioner had been shot or a wire had short-circuited—but it could be done, and the police would know that too. The rehearsal schedule would have to be cut short; Liang designated the evening of March 5 as zero hour, following the kickoff of the National People's Congress, the Chinese state's equivalent of Holy Week….

It took Chinese practitioners in the West—elite, highly educated, cool—to realize that Chinese television, and indeed propaganda and counterpropaganda, were mere foothills. The mountain had moved. With names like FreeGate, UltraSurf, and Dynaweb, small cells of practitioners, operating out of offices in northern California and living rooms in North Carolina, began the process of climbing over the great Chinese firewall and forging a permanent Internet connection to China from the West. In 2006, as it became clear that Falun Gong was no longer playing for stalemate, the North American systems administrator of Falun Gong was rolled into a carpet, beaten, and left bleeding in his suburban Atlanta home by Chinese hit men. That same year, practitioners formed the Global Internet Freedom Consortium. A few years later they posted an intro page written in Farsi and—well, you know the rest."
***
Renaud Egreteau in
Le Monde Diplomatique
,
"Burma's gradual transition"
.
"The army is the only structure that seems to be truly organised, hierarchical and capable of intervening in all areas of political, economic and cultural life. It has dominated the Burmese state for over half a century. Its authority has not been challenged by any unified opposition, not even by Aung San Suu Kyi as leader of the National League for Democracy (NLD). Since independence in 1948, the decades of civil war, Burma's unique geopolitical location between India and China, and the militaristic traditions inherited from the anti-colonial struggle and a fascination with imperial Japan have meant there are few competing institutions. So Burma's present problem is not replacing a military dictatorship with a complete democracy, even one supported by Aung San Suu Kyi, but anticipating how the army's dominance will evolve as it moves from 'praetorian' (direct and absolute) power to something less direct and slowly comes to terms with challenges to its omnipotence."
***
Jagdish Bhagwati in the
FT
,
"India's reform and growth have lifted all boats"
.
"Such voices present India with a double challenge: they misrepresent the successful way growth has cut India's poverty, but more importantly their critiques stand in the way of a much needed new wave of reforms, which would further benefit India's poorest. The reform naysayers, among them the socialists in the ruling Congress party, reject the 'miracle' that may soon see India overtake China's rate of growth. Instead they argue that gains have accrued to the rich, while inequality has increased."
***
Andrew Willis at
euobserver.com
,
Gaddafi wants more money to prevent Europe becoming 'black'
.
"During an opening address to the leaders of 80 different nations, Mr Gaddafi demanded that 'Christian, white' Europe lend more financial support for his efforts to combat irregular emigration to Europe. Otherwise it risked becoming 'black', he said."
***
Kristen Chick in the
CSM
reports
on the elimination of the Muslim Brotherhood from parliament
.
"That the regime would remove even the appearance of a democratic system by virtually eliminating the opposition from parliament signals that it is intent on securing all levers of power ahead of a possible presidential succession in the next parliament's term. Speculation is rampant that the 82-year-old President Mubarak may seek to install his son as his successor, possibly in September 2011 presidential elections."
***
Raymond Ibrahim at
pajamasmedia.com
,
"Islamists targeting Christians wherever they can reach them"
.
"This phenomenon -- attacking one set of Christians, or non-Muslims in general, in response to another -- has roots in Islamic law. The Pact of Omar, a foundational text for Islam's treatment of dhimmis (i.e., non-Muslims who refused to convert after their lands were seized by Islam) makes this clear. The consequences of breaking any of the debilitating and humiliating conditions Christians were made to accept in order to be granted a degree of surety by the Muslim state -- including things like giving up their seats to Muslims, as a show of 'respect' -- were stark: 'If we in any way violate these undertakings for which we ourselves stand surety, we forfeit our covenant [dhimma], and we become liable to the penalties for contumacy and sedition [that is, they become viewed as 'unprotected' infidels, and thus exposed to the same treatment, including slavery, rape, and death.].' Moreover, the actions of the individual affect the entire group -- hence the 'hostage' aspect (everyone is under threat to ensure that everyone behaves). As Mark Durie points out, 'Even a breach by a single individual dhimmi could result in jihad being enacted against the whole community.'"
***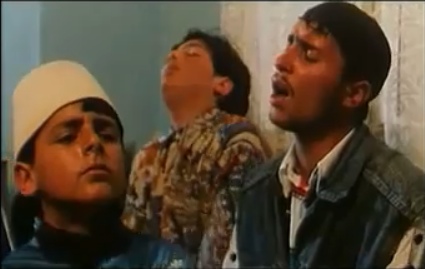 Dan Alexe at
euobserver.com
,
"The influence of Sufi Islam in the Balkans"
.
"The majority of Albanians in Kosovo and Macedonia are Muslim, but a sizeable number of practising believers belong to Sufi brotherhoods. This is a contemplative brand of Islam based on collectives in which the members, called dervishes, practice mystical exercises through which they reach a communal trance."
***
Roula Khalaf in the
FT
,
"Trove reveals the depth of Arab obsession with Tehran"
.
"Perhaps the only revelation is that Saudi Arabia's King Abdullah, who has an aversion to trouble in the region, should have joined in the clamour for bombing Tehran's nuclear facilities…. Mahmoud Ahmadi-Nejad, the Iranian president, was not willing to reveal anger or disappointment on Monday. In keeping with the tradition of fake politics in the Middle East, he suggested in a press conference that the leaks were fabrications by the US government. 'The regional countries and Iran are friends and brother,' he insisted. 'Such wickedness would have no influence on relations between nations.'"
***
Jonah Goldberg in the
LAT
,
"Save the North Koreans!"
"The Hermit Kingdom's regime has kept images of concentration camps and mass starvation limited. The gulag archipelago of political prisons doesn't get much airtime, nor do the women forced into having abortions or, in some instances, compelled to deliver their babies only to watch them suffocated because they contain 'impure' Chinese blood. You see, the North Koreans contend they are the 'master race' and have strict eugenic laws against what they see as race-mixing. And yet, North Korea's plight is not news. It's been the status quo for two generations. Everyone knows that it is an anachronistic, totalitarian police state, and yet the spirit of 'never again' finds little purchase in the Western conscience. Indeed, with the exception of some heroic human rights organizations, such as the U.S. Committee for Human Rights in North Korea, the debate is defined almost entirely by what some call 'realism.'"
***
James Glanz & John Markoff in the
NYT
,
"Vast Hacking by a China Fearful of the Web"
.
"The May 18, 2009, cable, titled 'Google China Paying Price for Resisting Censorship,' quoted a well-placed source as saying that Li Changchun, a member of China's top ruling body, the Politburo Standing Committee, and the country's senior propaganda official, was taken aback to discover that he could conduct Chinese-language searches on Google's main international Web site. When Mr. Li typed his name into the search engine at google.com, he found 'results critical of him.'"
***
Mary Eberstadt in
Policy Review
on George Weigel's book,
The End and the Beginning: Pope John Paul II
"Intelligence reports to kgb headquarters, writes Weigel, suggest that between 1973 and 1974, Polish prosecutors three times considered arresting Wojtyla and charging him with sedition. Each time they opted instead for greater dedication in reining in his associates (including beating one particular priest). From stalking Wojtyla's kayaking trips to persecuting or trying to compromise his closest associates, the Polish communists, despite bungling matters here and there, understood what the Soviet and East German communists would later. As one summarized in one Polish report, 'Despite his seemingly conciliatory and flexible nature, Wojtyla is a very dangerous ideological opponent.'

This brings us to an important and often overlooked historical point. In the matter of knowing their enemies, as opposed to most others, the communists were generally right — and this is nowhere more obvious than in the case of John Paul II. While most Western intellectuals looked on the beginnings of Wojtyla's papacy with bemusement, if indeed with any interest at all, communist kingpins from Moscow to Krakow to East Berlin saw something else: a mortal threat to the regimes they were defending and to the profound lies about human beings on which those regimes were built. By no coincidence Alexander Solzhenitsyn, by then in exile in Vermont, was almost alone in the West in grasping immediately the shattering historical significance of Wojtyla's election. Upon hearing of it, he 'threw out his arms,' Weigel reports from an exclusive family interview, and exclaimed, 'It's a miracle! It's the first positive event since World War I, and it's going to change the face of the world!'"
***
Suzanne Daley & Raphael Minder in the
NYT
,
"In Spain, Gypsies Find Easier Path to Integration"
.
"Here, more than 30 years of government programs to help Gypsies have begun to show signs of success. Virtually all young Gypsy children are in elementary school. Nearly half of their parents own their own homes. And like Ms. Jiménez, many are holding down mainstream jobs, moving away from more traditional Gypsy livelihoods like selling cattle and other goods. Spain has become so successful, in fact, that it now serves as a model for other European countries, including Romania, Bulgaria and Hungary. Some experts say Spain's secret is that it has concentrated on practical issues, such as access to housing and jobs. In contrast, they say, some European institutions have concentrated too much on issues of prejudice and political rights."
***
Archeological guide to
old Detroit
.
***
Sean Heavey's
Montana Supercell photo essay
in the
Daily Mail
.
***
Obituary of the Week
Don Meredith 1938 - 2010
.
Here's a decent
video rundown
of his career and the Dallas Cowboys as they were in the early sixties and what coach Landry and his fellow Texans done to Don before the end of the decade. He was an actor too, mostly on TV which by the mid-seventies was at a nadir. Here's what looks like a pilot for a Meredith series in a short-lived 1976 western starring Kurt Russell and Tim Matheson called,
The Quest: "Shanklin"
.
***
Thanks Chris Petersen, Spot, Mike Safran, Mike Vann Gray, Doug Sheppard.
---
---
---
To receive a weekly update notice for the NV, send an email to newvulgate[at]sbcglobal.net with SUBSCRIBE in the subject line. To stop receiving notices, do the same with the word UNSUBSCRIBE.• The New Vulgate• Joe Carducci, Chris Collins, James Fotopoulos, Mike Vann Gray, David Lightbourne
• Copyright retained by the writer, artist, or photographer