Moisture on the Land (Southern California High Desert)
Photo by
Stephanie Smith
---
---
Pirates - Yankees Game 7, Oct. 1960
by Joe Carducci
---
Dad is 83 and his Alzheimer's on occasion makes you wonder, Is this the real person with all the past and politesse stripped away? Or is the real person, born Delio Pacifico Carducci in Sarnano Italy in 1927, largely gone? It's not entirely either way, but you do wonder. Its interesting what Dad does remember. He remembers most of his kids most of the time, and he seems to know that the youngest ones running around the house on occasion are his Grandkids, but other than Mom, every relationship seems tenuous. As the eldest son of an immigrant he had it tough in that unique American way. My Grandfather Secundo thought sports were wasted energy that might be spent in the mines or landscaping, or around the house. He did his own handiwork, made his own wine and beer. He was sure everything was fixed in American sports the way it all was in Italy. As a soldier in the Trieste area in WWI he found himself and others' lives treated so cavalierly by Italy that he began to plan to leave. Once in America the culture shock let him to put in Dad's mind that being Italian was going to be used against him his entire life here. Secundo never quite learned English, but though Dad entered first grade without English, the Nuns changed Delio to Donald and he picked it up quickly.
Dad still does seem to remember certain burned-in experiences, both positive and negative. Secundo worked first in America for several years before returning to Sarnano to bring his wife and son to America. Dad still remembers his earliest memory -- the porpoises following alongside the boat, he was close to four years old. Secundo worked with his older brother in the mines until Primo was killed in an accident. The family then left coal country in eastern Pennsylvania for Bradford, north of Pittsburgh, and came to include three boys and a girl. Dad can usually tell the story of getting into a fight out front of his new house with a neighbor kid who was Irish. He searches for words now but still tells it well. Basically the Irish kid was picking on the new Italian kid and both mothers came out on their porches. Dad remembers his Mother calling out,
"Dalio, don'ta you fight,"
while the Irish kid's Mother was yelling
"Tommy, you whip that little dago!"
Dad also tells the story of making the basketball team at St. Bernard's High School in Bradford, Pa., and having the star player, the coach's son, a white kid, exclaim at Dad's "blinding speed." Clearly a first validation that meant a lot to him.
When I spent six months in Naperville last year to see if we could avoid the use of caretakers for him, he told me these stories often. I'd try to tease out a few new details each time: On the boat over they were in common steerage; from the porch his Mother was using her rough English in the futile hope of taming the Irish.
Dad had to quit the basketball team when winter came and he had to wake pre-dawn to shovel snow for his father. Secundo was then a groundskeeper for wealthy families in Bradford, mostly from local oil strikes or from the Zippo lighter company. This was not something he did for spending money. He was soon working his way through college at St. Bonaventure and Pitt, then through medical school at Loyola, and then interning at Oak Park Hospital where he met Mom who was a nurse, and residency at Merced County Hospital in California where I was born. We moved back to the Chicago area in 1956 and settled in Naperville the next year where Dad looked around at all the Germans and wondered if they'd allow an Italian to touch them. But it worked out great; they had nine kids, and Dad is well remembered and often out at a restaurant he is approached by former patients, so many he often couldn't remember their names even before he developed Alzheimer's. Mom worked at the office often enough in later years as my brother took over the practice to remember many of them though. Sometimes Mom or my sisters have to reassure him that he has no worries financially because that immigrant kid's fearful drive can still surface. That and Alzheimer's paranoia made caretakers and an anti-depressant necessary, so I moved back to Wyoming last spring.
In November I linked to an interesting story about the discovery of a complete 16mm kinescope of Game 7 of the 1960 World Series when the Pirates beat the Yankees on Bill Mazeroski's 9th inning home run -- the only time a World Series ended that way. Bing Crosby was part owner of the team which played at Forbes Field in those years. Crosby, the article related was too nervous to watch the game. The series was tied and the Yankees had crushed the Pirates three times while Pittsburgh had
barely won three close games. Just before he stepped on a plane to Paris Crosby decided to have an assistant film the game just in case the unimaginable happened. The game is one of the only full baseball games filmed before the 1965 introduction of videotape.
My Dad would've understand Crosby's anxiety. He often listened to Bob Prince call the Pirates games on KDKA-AM in the car at night, or up in his room when reception permitted once games got important late in the season. My brothers and I followed the Cubs on WGN-AM and TV with the much friendlier Jack Brickhouse announcing. Hearing Bob Prince announce strike-outs, base-hits, double-plays and home-runs like they were nothing in that even, tobacco-cured voice made it seem to us like the Pirates were a grown-ups' team that played late at night and the Cubs were for kids playing in daylight -- even the pitch of the crowd-noise was higher at Wrigley. Prince would drone on over the ionosphere's interference while Dad would groan or shout at each development like he was suffering the torments of the damned.
Home for Christmas I checked the
MLB
channel at my parents and found the
Game 7 special
on and got Dad to watch. My Mom and sister were in too. The spectacle of the game itself on a flawlessly filmed print was interesting enough. Mom marveled at how thin the players looked and how well-dressed the fans were. Forbes Field looked great with its outfield ivy, the see-through fencing behind home plate, and the box seats jutting out in short right and left field. The telecast standards of that day were interesting too. Very few close-ups, no replays that I recall, and only the names of players put on the screen, and it was "Bob Clemente". I didn't hear Prince say it that way, he called the first half of the game, but I did hear Mel Allen call him "Bob" during the second half. There was no second color man, each announcer -- Prince the Pirates man and Allen the Yankees man -- called half the game by himself.
Dad was riveted to the game as he watched the
1960 Pirates line-up
of excellent but far less famous players. For the Pirates it was Dick Groat, Roberto Clemente, Vern Law, Rocky Nelson…, for the Yankees Yogi Berra, Mickey Mantle, Roger Maris, Bill Skowron…. Dad answered our questions in the affirmative when we asked if he remembered this game, that player, Bob Prince, etc., but he wouldn't be distracted. He would have been just four years into building his medical practice as a doctor in Naperville, then a small town at the end of
the southwest suburban commuter line. He would have made some time to see that game even if only checking a small set at the hospital or office. He said he remembered seeing the game and I tend to believe him. You don't beat the Yankees in the World Series everyday, though the Pirates did make a habit of winning the World Series in the late sixties and early seventies, amazing for a team with limited resources. They had the first scouts combing the Caribbean for great Latin players of which Clemente was paramount. While I was in Berkeley in the early 1980s I was able to report back to Dad that based on the number of Pirates caps in Oakland they had become the national team of black America.
But that one game, the one that promised to be too excruciating to watch for even a Bing Crosby and ended with a home-run by Bill Mazeroski to break the tie in the 9th, proved a memory stronger than Alzheimer's. Nice to know that something is.
(illustrations: Roberto Clemente from the telecast kinescope; Delio Carducci passport image; Secundo and Olivia Carducci; Forbes Field; Dad and I in Breckenridge March 2009)
---
---
West of War Axe, Nebraska
Quarry Pond, Naperville, IL
Photos by Joe Carducci
---
---
Centropus Grillii
by
James Fotopoulos
---
---
From the Midwest Desk of Joe Carducci…
Dave Kehr in the
NYT
on
Bing Crosby in film
.
"The postwar Crosby is a fascinating figure; in a way he's the upbeat, gently sentimental antidote to the doomed heroes of the films noirs then filling American screens. Like those noir heroes Crosby's character is frequently a returning veteran experiencing problems settling down. The drifter's nonchalance, once a central element of his charm, has mutated into a lonely detachment; he has seen too much to drop effortlessly back into civilian life. But unlike the doomed noir figures who allow themselves to fall off the edge, Crosby's characters are saved by an innate musicality that eventually allows them to reconnect with the community they left behind. Such is the subtext of White Christmas, the 1954 film that proved to be Crosby's biggest box-office success. The first film made in Paramount's revolutionary widescreen process VistaVision, it has just been given an eye-popping release on Blu-ray by Paramount Home Entertainment based on the original VistaVision material."
***
Annie Proulx wrote in the
New York Times
about her move from Centennial to Saratoga over on the other side of the Snowy Range Mountains in a piece titled, probably not by her,
'My Own Private Wyoming'
. I used to see her occasionally at the post office, which since they don't deliver mail in town, is where one sees everyone sooner or later. She colors up her description of Centennial a bit but is basically on the money, though I'm not aware of there ever having been five bars in town, unless she's counting Tony's house, and maybe Nathan's though I suspect you better bring your own there. There's no drinking like there was before the Feds made the states go to 21 for drinking though. Back then I'm told Centennial special events would close the highway for the four bars could not contain it all.
I've liked Proulx's short fiction in the
New Yorker
though I wouldn't say there's much true Wyoming style in her Wyoming stories. But that's literary fiction for you. She doesn't say but she lived in Aspen Commons and it was "the commons" in the development south of Centennial proper, so-to-speak, that drove her out. Dave Lightbourne was in her house once doing maintenance on her wood stove. Dave said she was the most negative person he'd ever met, and there's no small contingent who might claim that of him! No doubt he tried to engage her in conversation while he worked but only succeeded in alarming her that the Goddamned duct-man might possibly be smarter and more worldly than she.
I think the acreage she describes almost buying near Centennial with the view of Sheep Mountain (which
NV
readers know well) is land my brother is currently eyeing. Proulx moved instead to the Saratoga-side, which in winter is a good two hours from Laramie and civilization as it exists in this corner of this state. That side has hot springs, hence the name, and big media wealth, most notably John Malone. It's a place that high-rolling hunters have gathered at for a century, and on holiday weekends in the summer Lear jets stream into and out of the small town's airport all weekend.
In Wyoming most ranches are named for the family but some have fanciful names. I'm sure Annie is where she belongs, a place you can give a name to your property even if it doesn't produce an ounce of beef or venison. Sounds like her land was off-limits to hunters already so she won't make any new enemies by banishing them the way the big collector of ranchlands north of Saratoga near Elk Mountain is doing. But still, I think its too bad Dave won't be bumming her new high over there in Bird Cloud too.
***
Sing Out!
's current Nov./Dec./Jan. issue features an obituary of that very
David Lightbourne
-- musician, scholar, itinerant boheme and part-time wood-stove chimney sweep. He wrote some fine pieces for this, the finest virtual weekly around, plus after his death last April he became the subject of some of our greatest pieces, in particular
NV

No. 56
. If I can get my hands on the
Sing Out!
I'll excerpt the piece next week.
***
Terry Teachout in the
WSJ
,
"Lovely Sounds of Sorrow"
.
"Century-old records are the closest thing we have to a time machine. To listen to the voice of Theodore Roosevelt or the piano playing of Claude Debussy is to feel the years falling away like autumn leaves from a maple tree. Rarely, though, have I been so engrossed by an album remastered from antique 78s as I was by 'There Breathes a Hope: The Legacy of John Work II and His Fisk Jubilee Quartet, 1909-1916,' an anthology released by Archeophone Records. This two-CD set, which also includes a profusely illustrated 100-page booklet, contains 43 of the first recordings of black spirituals. It is the most important historical reissue of 2010—and one that tells a story about turn-of-the-century black culture that may make some listeners squirm with retrospective discomfort.

Nashville's Fisk University, which opened its doors in 1866, is one of America's oldest historically black colleges. It is also known to scholars of American music as the home of the Fisk Jubilee Singers, an ensemble founded in 1871 that introduced concertgoers around the world to such deathless songs of sorrow and hope as 'There Is a Balm in Gilead' and 'Roll Jordan Roll,' in the process raising hundreds of thousands of dollars for the inadequately funded school. The original Fisk Jubilee Singers disbanded before the invention of the phonograph, but in 1899 John Work II, a teacher at Fisk, reorganized the group, and a male quartet drawn from the chorus started making recordings for Victor Talking Machine Co. in 1909."
***
Jake Austen in the
Reader
,
'Now Playing: The Jackson Find'
.
"Their paths would soon sharply diverge, but in 1967 and '68 Larry Blasingaine and the Jacksons were on parallel courses. The Jackson Five and Blasingaine's group the Young Folks (they'd later record as Larry & the Hippies) shared a manager, gigged at the same Chicago nightclubs, like the Green Bunny and the High Chaparral, and sometimes shared equipment and rehearsal space when they had to prepare for one of Spann's showcases. But Blasingaine's interests and aptitudes destined him for a career behind the scenes.

He'd dutifully studied music theory in grammar school and started his first band through a west-side youth-arts program called Teens With Talent, and his seriousness inspired adults to reach out and mentor him. Early on he picked up what he calls 'tricks of the trade'—mostly tips about how to conduct oneself onstage—from members of the Red Saunders Orchestra. Saxophonist Eddie Silvers, the musical director at One-derful, taught him chord charts; One-derful producer Otis Hayes demystified engineering; and nightclub singer Hi-Fi White helped him understand Broadway-style arranging. Though Blasingaine's own singles were never hits, in 1968 he became the bandleader for popular sister act the Emotions. A year and half later—still in his teens—he started working as a sideman for R&B great Jackie Wilson. He quickly graduated to musical director, a role he held until Wilson's career-ending onstage heart attack in 1975. His most intimate encounter with the Jacksons was on July 13, 1967, when he entered the One-derful studio—by then his home away from home—and saw the Jackson brothers preparing for a session."
***
Bradley J. Furnish letter
to
WSJ
on Richard Schickel's geriatric drive-by on the ass of the
NYT
's filmcritic of the 50s and 60s, Bosley Crowther:
"In his review of Tino Balio's 'The Foreign Film Renaissance on American Screens, 1946-1973' ("Seduced by Subtitles,"

Bookshelf

, Dec. 17), Richard Schickel calls longtime (and long-dead)

New York Times

film critic Bosley Crowther an 'incompetent' who denied his readers a proper appreciation of foreign and avant garde cinema. Dozens of Crowther's reviews are contained in Guide to the Best 1,000 Movies Ever Made, a collection of movie reviews appearing in the

New York Times

between 1927 and 1998. These include 50 (!) favorable reviews by Crowther of foreign films between 1946 and 1973 (excluding British films). Among these are such classics as Beauty and the Beast, The Bicycle Thief, Black Orpheus, Diabolique, La Dolce Vita, 8 ½, Divorce - Italian Style, Les Enfants du Paradis, The 400 Blows, Mr. Hulot's Holiday, Open City, Pather Panchali, Rashomon, Rififi, Seven Samurai, The Seventh Seal, Umberto D. and The Wages of Fear.

Crowther reviewed five films unfavorably and gave three others mixed reviews. Even while unfavorably reviewing films by Jean-Luc Godard, Luis Buñuel and Ingmar Bergman, he praised their talents and other successes. Crowther may have been his era's foremost drumbeater for foreign film. Crowther's criticism of Godard's Breathless is historically important. He found its narrative—lovers engaged in lethal criminality—'sordid…unrestrainedly vicious, completely devoid of moral tone.' Crowther echoed these objections in later rejecting Bonnie and Clyde, a review that probably led to his forced retirement. Looking back on 43 years' worth of escalating movie violence, one wishes that his view had prevailed.

Bradley J. Furnish
Kansas City, Mo."
***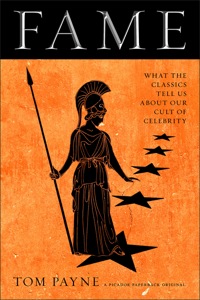 Toby Young in the
WSJ
on Tom Payne's book,
Fame
.
"Mr. Payne is a classics master at one of England's snootiest private schools, and his bright idea is to examine fame through the lens of the ancient world, exploring what light the Greeks and Romans can shine on our modern obsession with celebrities.

Mr. Payne's interest in contemporary fame is understandably quite limited…. The limitation does not prove to be much of a handicap because when Mr. Payne turns to modern fame, his primary concern is the often short life-span of today's celebrities. He's interested in stardom's parabolic trajectory, the tendency of the mass media to elevate certain individuals to the dizzy heights of fame and fortune, only to bring them crashing down to earth at the slightest sign of hubris…. His answer is that the brutal treatment meted out to errant starlets like Britney Spears and Amy Winehouse is a form of human sacrifice. Just as the Greeks and Romans would slaughter animals to propitiate the gods—a substitute for more primitive forms of sacrifice, according to the author—so the citizens of modern, democratic societies have an almost insatiable thirst for seeing celebrities devoured by the tabloid wolves.

To advance this analysis, the author relies heavily on the work of Walter Burkert, a classicist and the author of Homo Necans (1972), an account of sacrificial rituals in the ancient world. Mr. Burkert believes that the human psyche is irredeemably twisted and sadistic and that without a ceremonial outlet for its bloodlust, such as the pagan rituals of Greece and Rome, the appetite will inevitably find expression elsewhere. 'The modern world, whose pride is in the full emancipation of the individual, has gradually allowed the ritual tradition to break down,' says Mr. Burkert, cited in the book. 'As the idealistic tradition deteriorates, however, secret societies, ecstatic behavior, love of violence and death spring up all the more wildly and destructively amid seemingly rational orders. . . . In the end, societal forms in which man's archaic psyche will be granted its rights will presumably assert themselves.'"
***
CT
Editorial:
"Hizzoner & Son"
.
"'I began the research on this book three years ago, a few months before Richard J. Daley died … in his sixth term as mayor of Chicago. It was clear that an era in Chicago's history was coming to an end, a period of almost a quarter of a century in which one man, Richard J. Daley, had dominated the city. No one had ever done so before, nor was it likely anyone would ever do so again.'

—Milton L. Rakove, We Don't Want Nobody Nobody Sent, 1979.



But someone did.

Richard M. Daley first ran for mayor of Chicago in 1983. To uncharitable eyes, he was a creation of his father's cronies — former Cook County Board President George Dunne, County Assessor Tom Hynes, U.S. Rep. Dan Rostenkowski, former Illinois Attorney General Neil Hartigan. The usual suspects. In the Democratic primary, Daley finished third, behind ultimate victor Harold Washington and then-Mayor Jane Byrne."
***
Joann Lublin in the
WSJ
,
"Calpers, Apple at Odds on Governance"
.
"Apple's directors can currently hang on to their seats with a single 'yes' vote in uncontested elections. The California Public Employees' Retirement System wants Apple and other U.S. companies it invests in to adopt rules requiring directors to win a majority of the vote, saying that will make board members more accountable to shareholders.

Calpers said Apple resisted its request, so the pension fund submitted an advisory shareholder resolution to force the issue. The measure is set to come up for a vote at the iPhone maker's annual meeting in February."
***
Yu Yongding in
China Daily
,
"A Different Road Forward"
.
"China's progress over the past three decades is a successful variation on the East Asian growth model that stems from the initial conditions created by a planned socialist economy. That growth pattern has now almost exhausted its potential. So China has reached a crucial juncture: without painful structural adjustments, the momentum of its economic growth could suddenly be lost. China's rapid growth has been achieved at an extremely high cost. Only future generations will know the true price. The country's investment rate now stands at more than 50 percent - a clear reflection of China's low capital efficiency. There are two worrying aspects of this high rate. First, local governments influence a large proportion of investment decisions. Second, investment in real estate development accounts for nearly a quarter of the total. Some local governments are literally digging holes and then filling them in to ratchet up the GDP."
***
Andrew Batson in the
WSJ
,
"Farm Wages Trip Beijing's March Against Inflation"
.
"Most of China's farmers supplement the income from their family plots by working at urban factories or large farms like Mr. Zhang's. With the job market bouncing back strongly from last year's downturn, the wages earned by rural households are up 18.7% so far this year on a per capita basis, according to official data. Those rising wages are a 'double-edged sword' because they affect both the supply and demand for food, said Scott Rozelle, a specialist on Chinese agriculture at Stanford University. Farmers who can earn more off the farm might abandon their fields for other jobs, or demand more for their produce. At the same time, workers whose paychecks are rising can spend more on groceries and wedding banquets, increasing the consumption of food. Those effects will add up in coming years, as continued strong economic growth combines with a decrease in the number of young people entering the work force to keep pushing up wages in China."
***
Paul Springer at
Traderdaily.com
,
"Lost in Translation: China Stock Fraud"
.
"Sudden growth and sketchy disclosure establish a perfect breeding ground for fraud, and claims about China Education Alliance (CEU) add up to a perfect storm of uncertainty for investors in the U.S. Kerrisdale Capital has published a detailed set of claims alleging systematic fraud on the part of China. Be mindful that it is still unclear whether the allegations, which Kerrisdale posted a few weeks ago, are true. That's the frightening reality – because of the distance and costs involved, weeks have passed, and it remains unclear whether the company is legit or just some empty rooms representing no value to shareholders. Some points from Kerridale's investigation:



We hired an investigator to visit the company's training center in Harbin and found it to be barren of desks and teaching equipment.

In terms of value, Kerrisdale alleges, China Education is a smoking crater:

Today, CEU trades at a market capitalization of $150 million and its shares are listed on the New York Stock Exchange. In actuality, the stock is worth little more than the $20 million of cash it raised in its 2009 secondary offering, if indeed that cash still resides in the company's bank account.

We will provide evidence throughout this report that CEU is fabricating its SEC financial statements. Its actual revenue and net income is a small percentage of what it reports in its SEC filings.

The company is mostly a hoax.



Since the end of November, the company's market cap has fallen to around $70 million as China Education has assured investors that its business is solid. Clearly, investors are not entirely reassured."
***
Alan Abelson in
Barron's
,
"Insolvency Stalks China's Banks"
.
"We found especially interesting Harald [Malmgren]'s take on China. He notes that while investors everywhere have been uneasily eyeing the rise of the inflation dragon in that nation and have anticipated that Beijing would hike interest rates to contain the beast, it hasn't. And the reason why it hasn't, he posits, is that profit margins for many Sino businesses are razor thin, and an abrupt rate boost would mean appreciably higher debt-service costs, really putting the kibosh on profits. Despite all the global focus on inflation, Harald contends, the big challenge confronting China can be found in the nonperforming loan portfolios of its banks and kindred financial institutions. That enormous pile of deadbeat loans is the legacy of late 2008-2009, when exports dried up and the spooked rulers of the command economy ordered the banks to seriously step up their lending -- no ifs, ands or buts. The banks dutifully complied with an awesome $1 trillion in fresh lending. Much of that huge mountain of loans has fallen into the nonperforming category, which translates from the polite banking parlance into delinquency, big time. To avoid a financial meltdown, Harald expects, Beijing will raise capital-adequacy requirements substantially during the first few months of 2011, conceivably in incremental steps to cushion the pain. Since he anticipates Chinese banks will have trouble raising capital, he expects a large-scale shrinkage in lending. Chinese banks, he emphasizes, aren't suffering from insufficient liquidity. Rather, he warns, the danger to the country's banking system is insolvency.

In the current lineup of problem banks around the world, he would rank Chinese banks as the most troubled, with European banks next, followed by U.S. banks and Japanese banks probably holding down fourth place."
***
Mercopress
from
BBC
:
"China defends soaring economic and trade relations with Africa"
.
"China needs more natural resources such as oil, gas, and minerals for its rapidly growing economy, while Africa needs more investment in basic infrastructure to develop its potential. China plans to expand the relationship to 'a larger scale, broader scope and higher level', according to the policy paper released by the state information office. However, the growing Chinese presence on the African continent has attracted a mixed reaction. While some Africans welcome the Chinese practice of separating politics from economics, others have expressed concern that Beijing's deepening involvement in the continent's development may worsen the level of corruption and the human rights and environmental issues there. The key question for many African countries is whether they should adopt the Chinese model of growing the economy at the expense of political reform, rather than developing their own model."
***
James Hookway & Alison Tudor in the
WSJ
,
"Behind Firm's Default: Vietnam's Growth Mania"
.
"Over the past decade, the country's economy has expanded from crater-pocked rice paddies to erect gleaming new factories and towering skyscrapers, prompting development economists to extol the country as a model for other frontier markets. On the narrow streets of Hanoi, Rolls-Royce and Bentley cars now compete for space with rickshaws and motor-scooters. In the past few weeks, the cost of Vietnam's poorly policed transformation has become alarmingly clear, offering food for thought for investors seeking rising returns elsewhere on the frontier-markets map. Economists say the country's worsening problems, and the impact they could have on its dwindling currency, might also worry textile and agricultural producers in countries like Thailand and Indonesia which compete with Vietnam in those sectors.

Inflation is soaring, reaching 11.75% year-to-year in December, while Moody's Investors Service, Standard & Poor's and Fitch Ratings have all downgraded Vietnam's credit ratings because of its relentless focus on pumping up growth in the past six months. The government, meanwhile, appears set to continue its rolling devaluations of Vietnam's dong currency while ordinary people scramble to stock up on U.S. dollars or gold. Since mid-2008, the dong has lost around a fifth of its value as Vietnam floods the banking system with money."
***
Adam Ellick in the
NYT
,
"Necessity Pushes Pakistani Women Into Jobs and Jeopardy"
.
"Female employment at KFC in Pakistan has risen 125 percent in the past five years.

Several chains like McDonald's and the supermarket behemoth Makro, where the number of women has quadrupled since 2006, have introduced free transit services for female employees to protect them from harassment and to help persuade them take jobs where they may face hostility. 'We're a society in transition,' said Zeenat Hisam, a senior researcher at the Pakistan Institute of Labor Education and Research. 'Men in Pakistan haven't changed, and they're not changing as fast as our women. Men want to keep their power in their hand. The majority of the people here believe in the traditional interpretation of Islam, and they get very upset because religious leaders tell them it's not proper for women to go out and to work and to serve strange men.' More than 100 young women who recently entered service jobs told of continual harassment. At work, some women spend more time deflecting abuse from customers than serving them. On the way home, they are heckled in buses and condemned by neighbors. It is so common for brothers to confiscate their uniforms that McDonald's provides women with three sets."
***
John Leland in the
NYT
,
"Iraq's Wild Ones Are Mainly Looking to Impress (But where are the women?)"
"In the United States these tricks would barely turn an eye, but in Iraq the bravado looks like the baby steps of a nascent youth culture, modeled largely — and imperfectly — on a vision from abroad. 'I feel I am a rebel,' Mr. Hamra said, displaying a forearm tattooed with the logo of the rapper 50 Cent. 'We took this as an American style. It's like the idea of being warriors. Motorcycle people listen to rap or rock — they have their own warrior style.' He added: 'In America the rebels have their own streets and coffee shops. So we are following them.'

…And for all the riders' wistful thoughts of The Wild One or Easy Rider, one essential element was missing from the scene. Because the sexes in Iraq do not mingle in public for religious reasons, the shows have been a strictly male affair. Riders who have girlfriends say they cannot ride together on the men's motorcycles. 'It's a babe magnet,' said Messar al-Saffar, 33, speaking English, 'but in Iraq, it's hard to get your girlfriend on the back.'"
***
Brian Knowlton in the
NYT
,
"Life in U.S. Brings Success and Visibility For Muslim Women"
.
"'What we're seeing now in America is what has been sort of a quiet or informal empowerment of women,' said Shireen Zaman, executive director of the Institute for Social Policy and Understanding, a nonprofit research institute founded after the 2001 attacks to provide research on American Muslims. 'In many of our home countries, socially or politically it would've been harder for Muslim women to take a leadership role. It's actually quite empowering to be Muslim in America.' As Najah Bazzy, a American-born nurse and founder of several charities in Michigan, put it: 'Yeah I'm Arab, yeah I'm very American, and yeah I'm very Islamic, but you put those things in the blender and I'm no longer just a thing. I'm a new thing.' It is not always easy. Several of the Muslim women interviewed for this article said they had been the object of abusive letters, e-mails or blog posts. Yet in their quest to break stereotypes, America's Muslim women have advantages. They are better educated than counterparts in Western Europe, and also than the average American, according to a Gallup survey in March 2009. In contrast to their sisters in countries like Egypt and Saudi Arabia, they are just as likely as their menfolk to attend religious services, which equates to greater influence. And Gallup found that Muslim American women, often entrepreneurial, come closer than women of any other faith to earning what their menfolk do."
***
Benny Morris in
The National Interest
,
"Qutb and the Jews"
.
"Never mind the nightlife of New York or the mores of Los Angeles. Even a church social he attended in Greeley, Colorado, was execrated:



'The dance hall was illuminated with red, blue and a few white lights. It convulsed to the tunes of the gramophone and was full of bounding feet and seductive legs. Arms circled waists, lips met lips, chests met chests, and the atmosphere was full of passion.'



American women in general he described as having 'thirsty lips . . . bulging breasts . . . smooth legs,' all topped off by 'the calling eye . . . [and] the provocative laugh.' Indeed, after returning to his homeland, he had nothing good to say of the United States—whether it be about the climate, American sloth or the unattainability of a good haircut. Qutb saw it all as shallow and obsessed with vile concepts of materialism and brute strength. American civilization was so deformed that, 'when the wheel of life has turned and the file of history has closed, America will have contributed nothing to the world heritage of values.' But western sinfulness was not restricted to their own lands. America was busy spreading its values eastward, polluting (and thus enfeebling) the Muslim world. In addition to neutering its males by denying them power, the West was subverting the traditional (inferior) role of women; exporting the notion of feminine equality, which was leading to 'discord' (

fitna

) in Muslim societies. Women were suitable only for domestic, not public, responsibilities, thought Qutb. Moreover, unchecked, now-liberated feminine sexuality was tempting men into sin, corrupting the social order."
***
The Economist
:
"Suitably Dressed"
.
"'Suit' was the chosen insult of hippies to describe a dull establishment man. The garment has been ostentatiously rejected by Silicon Valley titans like Steve Jobs of Apple, Mark Zuckerberg of Facebook and Sergey Brin of Google. Yet the business suit has an exciting and mysterious history that should give wearers a tingle of pleasure every time they put one on. It is a garment born out of revolution, warfare and pestilence. The suit still bears the marks of this turbulent past as well as the influence of Enlightenment thinking, sporting pursuits and a Regency dandy. In the year that may well mark the 150th anniversary of the suit it seems a shame that no celebrations were held in its honour.

The pattern was cut in the middle of the 17th century. To maintain an image of what is now called 'austerity Britain' after a plague outbreak in 1665 and the Great Fire of London a year later, Charles II ordered his courtiers to dress in simple tunics, shirts and breeches. This was a profound reversal. Monarchs had long imposed sumptuary laws preventing

hoi polloi

from dressing too grandly. Forcing the elite to dress modestly suggested that power and place were no longer to be marked by yards of lace and frills.

Even as court fashion took another turn towards flamboyance, the sombre three-piece look endured in smart society. The emerging mercantile class adopted it, as did landed aristocrats, who spent much of their time on their country estates rather than at court. Sobriety of colour gained further ground after the French and American revolutions."
***
Victor Sperandeo in
Barron's
,
"When governments cannot borrow, hyperinflation is frequently the result."
"The first occurrence of hyperinflation was in France between 1789 and 1796, when the revolutionary government paid its bills with paper and forced its creditors to accept payment or be guillotined. Since 1920, there have been 29 more hyperinflation events around the world, the most recent being in Zimbabwe beginning in 2007. From Robespierre to Mugabe, government profligacy and the printing of money were the chief causes….

Look at the federal budget for fiscal 2009. That year, the budget deficit was $1.55 trillion, with total expenditures of $3.52 trillion. If the government borrows the entire amount of the deficit, it would have a borrowing rate of 44% of total expenditures. In 2010, the figure also has exceeded 40%. Can this imbalance continue without triggering a hyperinflationary spiral? The Congressional Budget Office projects this borrowing rate will be coming down substantially by 2014. If this fairy tale came true, Armageddon will be postponed."
***
Edin Mujagic at
euobserver.com
,
"Stop blaming the Germans"
.
"Troubles in Ireland? Due to the German wish that investors share a part of the bail-out burden. Euro-crisis? We wouldn't have that crisis if Germans did not keep their wage costs low over the previous years. If only they would spend more on Greek cheese, Italian olive oil, Portuguese and Spanish wine and Irish beef. By doing so, they would pull the weak euro countries out of their doldrums. Germans refuse to increase their deficit and/or raise their wages or demand investors share the bail-out costs with the cash-stripped European governments not in order to make enemies in Europe. They have a different reason I do not feel is really acknowledged by other European capitals. Many battles have been lost because the generals only minded the front and forgot to secure the area behind the lines as well. German politicians are doing nothing more and nothing less than securing the area behind the lines while almost all other European leaders are channeling their efforts to the front lines."
***
John Rathbone in the
FT
,
"Eurozone can learn grim Latin lessons"
.
"In 1982, loans to developing countries -- mostly Latin American -- accounted for more than twice the capital base of US banks, according to the IMF. Early debt write-offs would therefore have been impossible. They would have produced a systemic US financial crisis. That is true of the Euro zone today. A back-of-the-envelope calculation shows why. European bank stocks are trading around the book value of their equity. As the combined market capitalisation of European banks is 903bn, that suggests total bank capital is about the same. As for exposure, a rough figure can be gleaned from the Bank for International Settlements. The total claim of foreign European banks on Greek, Irish, Portuguese, Spanish and Italian debt is almost 1,800bn. Europeans banks' exposure to potentially trouble Euro zone debt may therefore be around twice their capital -- comparable to US banks' in the Latin American crisis."
***
Philip Tetlock in
The National Interest
,
"Experts All the Way Down"
.
"I am often pigeonholed as an 'expert on experts' because I have a long-standing interest in the (rather large) gaps between the confidence of political pundits and their forecasting accuracy. In reviewing these books by experts on experts, one could say I have morphed into an even-higher life form: an expert on 'experts on experts.' Before ascending further on the Great Ladder of Being (all it would take is for a blogger to review this review—and for me to reply—to move up to Rung Number Five), I had better stop the infinite regress. Why not start by asking: How much traction can we get from heeding these authors' advice in coping with that recurring challenge of modern existence—separating the wheat from the chaff?"
***
Obituaries of the Week
Jimmy Jack
(1928 - 2010)
"Mr. Jack was barely into his teens when he got into his next notable scrape: assuming his older brother's identity so that he could join the Merchant Marines at 15. He served during World War II and distinguished himself as a boxer, winning three Golden Gloves tournaments and acting as an alternate on the 1948 U.S. Olympics team, before enlisting with the Marines and serving during the Korean War. But it was in the Chicago Police Department, which he joined in 1955, that he found his true calling. Within a year he made detective — one of the youngest in the city. His first partner as a detective, Phil Tolomeo, was a mob insider on the Outfit's payroll. Mr. Jack quickly demanded — and got — a new partner after he spotted F.B.I. agents snapping photos outside Meo's, a notorious Outfit haunt where Tolomeo would meet with cronies. Much of his career would be spent fighting those mob bosses — many of whom grew up in the same neighborhood as him."
Frank Bessac
(1922 - 2010)
"In 1949, as the Chinese revolution extended its gains to the steppes in the western part of the country, Frank Bessac escaped via a nearly 2,000-mile journey through deserts and mountains to Tibet. He became one of the last westerners to meet the Dalai Lama in his summer palace in Lhasa. During the epic trek, shrouded in secrecy and Cold War high jinks, the trek's leader, Douglas MacKiernan, became the first Central Intelligence Agency officer killed in the line of duty.

Mr. Bessac, who died Dec. 6 at age 88, was by turns an agent in China with the Office of Strategic Services, a U.S. wartime intelligence agency, a relief worker in Mongolia, and a cultural anthropologist with a special interest in nomadic tribes of the Asian steppes. A college student in California when World War II began, Mr. Bessac was drafted into the Army in 1943. He was sent to learn Mandarin at Cornell University, where he was recruited by the OSS. He was parachuted toward the end of the war into China, where he 'executed daring missions,' he wrote in a memoir, and helped keep tabs on the emerging conflict between Nationalist and Communist factions. (He also headed a relief effort on behalf of the U.S. State Department, delivering food aid to Mongolian pastoralists who were the victims of drought.)"
***
Thanks to Arthur Krim, Jay Babcock.
---
---
---
To receive a weekly update notice for the NV, send an email to newvulgate[at]sbcglobal.net with SUBSCRIBE in the subject line. To stop receiving notices, do the same with the word UNSUBSCRIBE.• The New Vulgate• Joe Carducci, Chris Collins, James Fotopoulos, Mike Vann Gray, David Lightbourne
• Copyright retained by the writer, artist, or photographer